Passage to Port Resolution, Tanna

Caduceus
Martin and Elizabeth Bevan
Mon 6 Oct 2014 22:41
Position 19:31.52S 169:29.73E
Date 1420 (UTC +11) Sunday 14 September 2014
Distance run – 49nm over the ground, 41nm through the water
Time from Anatom – 8hrs
An early start was made, really it was 0625 local time when we slipped and as first light is about 0600 it was quite a shock to some systems. Motoring out of the wind shadow we picked up a decent breeze to get us on towards Tanna which was visible almost the whole of the way. Seeing the steam and smoke rising from the active volcano (middle right) is quite a sight.
Port Resolution is known as a rolly anchorage and lives up to its reputation and we share it with the OCC yacht Wild Fox, Anthony Swanston who was great company. Early on we were approached by local men in outrigger canoes. None of your Caribbean boat boys trying to sell anything and everything but requests for copying action films to a USB stick and if we could charge a mobile cell phone.
There is something quite unique about being anchored in the shadow of an active volcano, steam venting along the side of the bay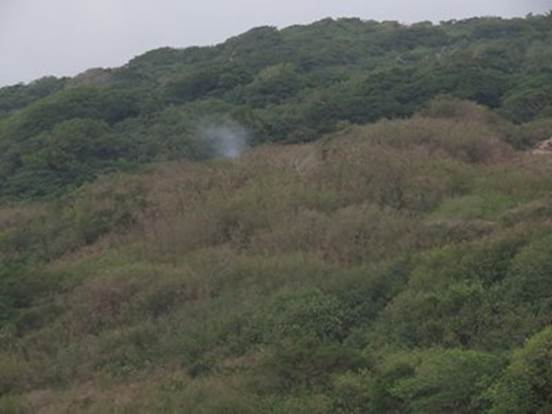 and being approached by islanders in dugout canoes asking for assistance with up to date technology. Gifts of bananas and papaya were brought in return.
The centre of yachties activity, and one of the calls made by the World ARC Fleet is the Port Resolution Yacht Club.
The village is sizeable and traditional, it is referred to as "Kustom".
A new house of traditional construction
And there is the occasional gentle commercial take on affairs
The whole village is set amongst beautiful, tended tropical forest
The people are very welcoming and happy to chat to us.
u
Elizabeth made friends with Lea and her family, helped by a supply of lollipops.
Local materials are used to make football posts.
---