Around Deshaies and a tour of Basse Terre, Guadeloupe

Caduceus
Martin and Elizabeth Bevan
Tue 22 Mar 2011 23:59
Date                2359 – 22 March 2011
Our first full day in Deshaies being Sunday we declared a day of rest although we took a trip ashore for a walk up the Deshaies River.  This is in the book as a paved track followed by two hours of scrambling over rocks.  In the interest of saving ankles we stuck to the track and then turned round and walked around the town.
Monday, shops open so we hit the Spar which had a remarkably good stock complimented by a good Alimentation Générale at the other end of the town.  The Spar generously allows use of their trolleys so a resupply of Coke and wine and the rest of the loot was duly trundled the length of Deshaies, the dinghy dock of course being as far from the Spar as you could get.
Deshaies is famed for its Botanical Gardens and they even on request send a minibus to collect you from the dinghy dock.  The gardens are superb and have a huge collection of tropical trees, shrubs and plants from all over the world.
In the absence of ever being able to see native parrots; rare, grey and very well camouflaged; we had to settle for this display of parakeets from Australia.
Caption suggestions by email please – judges decision will be final!
Tuesday was day 3 in Deshaies and in the company of Rob and Sheila Avery from ARC boat "Let it Be" we hired a car and had a great day out touring Basse Terre, which is the western island making up Guadeloupe, Grande Terre being the eastern half.  Perversely it is Basse Terre that is the mountainous half.
We were able to take in most of the central highlands, rainforest and then drove down the eastern side, across the south and back up the western side.  Waterfalls are a spectacular feature of the island and we visited two.  The second one, the Chutes du Carbret is the most famed and comes in three parts.  Our 50 min walk along a well paved path took us to the middle fall.
Unfortunately due to a large rock slide and continuing instability this is as close to it as you can get; so no swimming in the plunge pool.
Such exertion deserved a niece lunch which duly followed.  One of my elusive quests is to take a good photograph of a humming bird.  This, taken during lunch is the best yet – I will keep trying!
The drive around the south of the island gave wonderful views across to the Isles des Saintes, at 8 nm distance and to Dominica in the background at 25nm.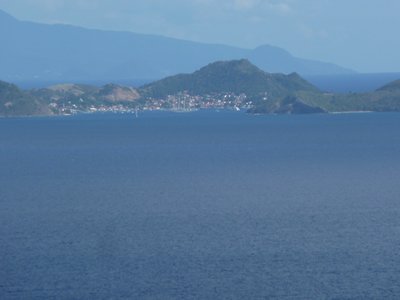 Advantage was taken of having a car by visiting a Leader Price supermarket and then it was back to the boat with the frozen goodies.  The day finished as it had started, very sociably with sun downers on Let it Be followed by return to Caduceus and a pizza – one of the spoils of the shopping.
---