West to Five Islands in the Sheepscot River

Caduceus
Martin and Elizabeth Bevan
Mon 25 Jul 2011 19:00
Date 2000 – Monday 25 July 2011 (UTC -4)
We seem to have been moving on almost everyday recently so the blog has been coming out thick and fast. It will shortly slow down. The current progress is all about trying to be in a sensible place for what is supposed to be a day of favourable weather for the longer leg back round Cape Anne to the Gloucester, Salem, Marblehead area some 25nm east of Boston.
Today's passage was 25nm from Maple Juice Cove to Five Islands in the Sheepscot River, just to the west of Boothbay Harbor. Whilst it was motor sailing again, there was just enough wind from a sensible direction to give us a good lift and with the addition of a favourable tide we made good progress. Navigation proves interesting as we hop from one river anchorage to another. The coast is deeply indented with North South orientated deep river inlets with many off lying rocks and islands. You can either go the long way around the outside or take the shorter passage threading your way through the obstacles. The inside route is usually much shorter but requires constant concentration
This particular obstacle has an active now unmanned light but what was the lighthouse keeper's cottage appears to be WIP for a real 'des res'. We are passing inside the island on which it stands.
Possibly not the easiest place to do a renovation. Just off the shot is a barge at anchor with building materials piled on the deck.
We have had another sighting of a Bald Eagle albeit at a very considerable distance.
At least this photograph shows the head rather than the other end and proves the point that we are making sightings. The fate of my wildlife photography seems destined to push the zoom to the limit and then some. I will keep trying
Five Islands is a pleasant little harbour, named after the five small islands that surround it and give it protection. It is crowded with moorings and anchoring is not a possibility. There are FoC moorings provided by the Five Islands Yacht Club but their swinging room is more suitable for boats of about 40 foot max.
The Sheepscot Bay Boatyard was able to provide a mooring big enough for us at a reasonable $35.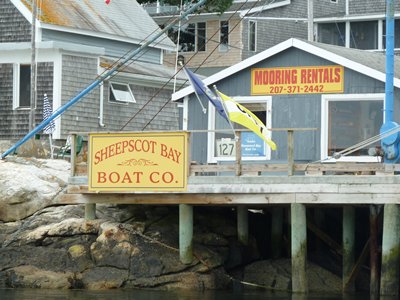 Dinner was taken on the jetty at the Five Islands Harbor Lobster Company with a BYO bottle from our dwindling supply of French burgundy.
---