To Mustique

Caduceus
Martin and Elizabeth Bevan
Mon 27 Dec 2010 23:59
Date 2000 Local - 27 December 2010
(All times in this entry refer to local time, UTC -4 unless stated as UTC)
We prized ourselves away from Admiralty Bay, Bequia and had a great sail for the ten miles or so to Britannia Bay Mustique. We started with a gentle down wind leg along the southern shore of Admiralty Bay, Bequia which allowed us excellent views of the shore. Rounding West Cay, the western point of Bequia we were able lay a course between Isla A Quatre and Pigeon Island and on to Britannia Bay, Mustique.
Britannia Bay being relatively deep and prone to swell we were relieved that a mooring buoy came free just as we arrived and we were able to take up residence in this most privileged of manicured enclaves. The view from the boat is magnificent, looking one way towards the island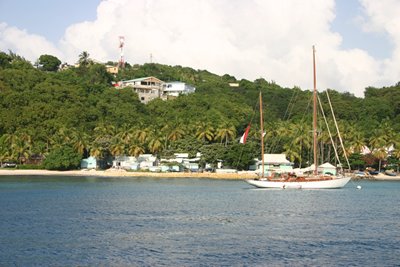 and the other back towards Bequia and its off lying islands the other.
The weather has definitely changed and we have maintained the brisk 20 knot breeze and bright sunshine that "it says on the tin".
Sundowners were taken in Basil's Bar, which is built out over the water.
---