Day 9 with Alice and Stuart - Sailed to Suvasuva, Vanua Le vu

Caduceus
Martin and Elizabeth Bevan
Mon 6 Oct 2014 06:21
Position 016:46.67S 179:19.99E
Date 1520 Wednesday 16 July 2014
Distance run from Viani Bay 48nm – 46.8nm through the water – 7hrs underway
Where has this wind gone, we seem to be in the middle of a perpetual high.
The excitement was just too much for Alice and Stuart
The reward for another day's motoring was a great mooring off the Copra Shed in Suvasuva.
The view from the boat as the sun went down as particularly beautiful.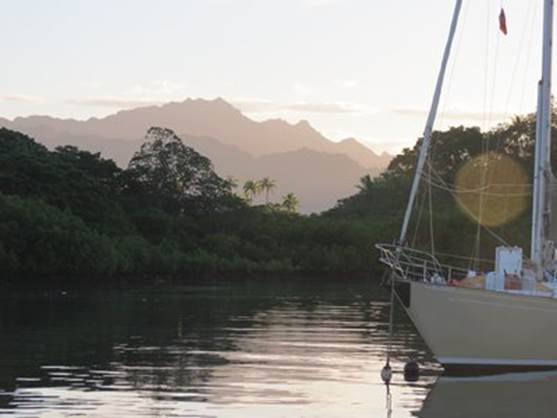 In the evening we were treated to dinner in the Copra Shed restaurant by Alice and Stuart. It was a good dinner in excellent comfortable surroundings overlooking the mooring field.
---