A few days in Belitung

Caduceus
Martin and Elizabeth Bevan
Sat 21 Nov 2015 23:59
Position 02:33.25 S 107:39.77 E
Date Thursday 19 to Saturday 21 November 2015
Sitting off the beach in Belitung was very pleasant with the prospect of company, beer and food ashore made it tempting not to explore but explore we did with the aid of a hired driver and car who took us into the near part of the island and to the main town of Tanjung Pandan.
At a nature reserve we saw this rather sad looking Tarsus Monkey. They are normally very nocturnal so probably did not appreciate being on display
A bit of local ingenuity using a very old engine to pump water. Note the fuel tank.
More local ingenuity – by local standards a small load
And then it started to rain so we visited the town museum – a varied and interesting collection but not very well laid out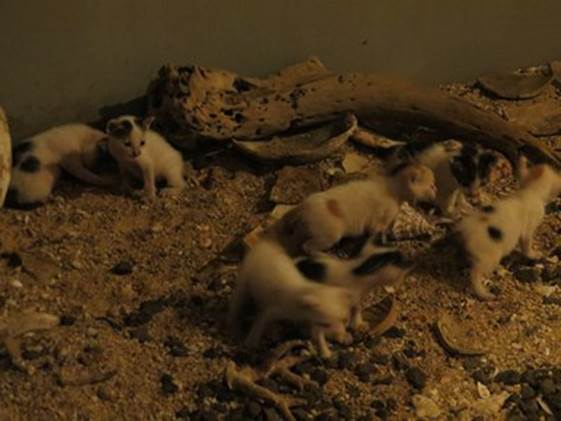 One of the more interesting museum displays – a cat had had kittens in a comfortable sandy display of amphora. No, we do not now have a boat cat
The Fishermen's' Village and still raining hard. A small section of the fleet that we see going out each night
It is wet and mid-week otherwise you would not be able to see this major attraction of Tanjung Pinggi for Indonesian tourists
Our hosts ashore, Erwan, his wife Fenny and children who run the bar and warung at the head of the pier and who organised drivers, clearance out of Indonesia and invited us to a neighbourhood party at his bar
Elizabeth making friends with a mother and her children at the party
And indulging in a bit of hands on karaoke
Caduceus at anchor amongst typical Belitung scenery
---