Bermuda Day 6 - All hands to aft deck waving stations

Caduceus
Martin and Elizabeth Bevan
Thu 5 May 2011 04:00
Position 31:09.65N 64:40.37W
Date 2359 – 4 May 2011
Today the sea has for the most time been somewhat less aggressive which has made life easier.
We have however had another 24 hours hard on the wind, motor sailing to get as close to the wind as possible. We are setting a rig of staysail and reefed main and mizzen which seems to suite this sort of sea and wind very well and allows a much closer wind angle, albeit with motor assistance. The figures for the 24 hours tell the story; 125.5nm distance through the water, 121.0nm over the ground (i.e. 4.5 nm adverse current) but only 106nm towards our destination as we tack back and forth.
The last few hours the wind has veered which means for the first time in three days we can actually sail towards our destination which at midnight was 72 miles away. The forecast for tomorrow is fro the wind to go very light so it looks as it will be another diesel day.
We have continued to keep station with Alice getting no more than 2 miles apart and exchanging regular VHF calls. Sailing double handed as we both are, the duty watch keeper spends a great deal of time on their own so someone to chat to is a great aid to sanity and reduces the time spent talking to oneself.
This is a photo of Alice at 0.3nm taken this morning.
There has been a steady stream of ships crossing our path, mostly heading to or from east cost USA ports. We also started to hear Bermuda radio on the VHF at 150nm which must be some sort of record. Their transmitter must be nuclear powered! We are told that they provide an excellent service and track yachts in on radar for the last 30 miles of the approach to St George providing advice and assistance as required.
The main excitement of the day was an "All hands muster to aft deck waving stations" as the cruise ship Celebrity Equinox passed our stern en route for the Azores.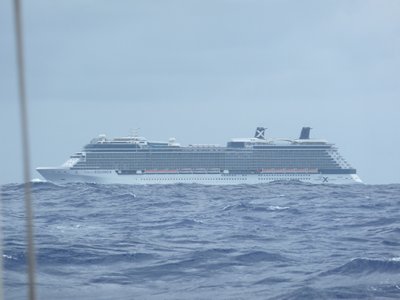 On the catering front Elizabeth did not take my offer of barbequing seriously which is just as well as there I still a deal of water about on deck and it would have been sausages in life jackets; possibly a new take on 'Toad in the Hole'. We ate the second half of yesterday's "spag bog".
Tomorrow evening it is to be hoped that catering can take place on the horizontal. The celebratory fizz is waiting in the fridge.
---