Sights from Penang

Caduceus
Martin and Elizabeth Bevan
Thu 10 Dec 2015 23:59
Date Wednesday 9 December and Thursday 10 December 2015
We packed a great deal in to our two nights at Straits Quay including a trip to the nearby Tesco's Mall, 10 minutes' walk, to obtain local SIM cards for the phone and data, clearing in of course, a trip around some of the sights of Penang, dinner at a great Indian restaurant with our temporary next door boat, Elizabeth and Wally from the USA, and provisioning at Sam's Deli and Supermarket in the Straights Quay Mall.
Sightseeing was achieved using a taxi to the bus station and then using the free circular route bus service around downtown Georgetown followed by a walk around the Fort Cornwallis area.
Taxi, bus and walking were much easier than driving ourselves
Penang is a real meeting place of cultures as the next four photographs demonstrate:
An Indian flower seller displaying the garlands that are so much a feature of Hindu worship
A traditional Chinese merchants house now used as shops
The majority religion in Malaysia is Muslim. This is a beautiful Mosque in the colonial district
And there was this very fine colonial church
A not so smart survivor from the late 19th century, typical of a lot of the older buildings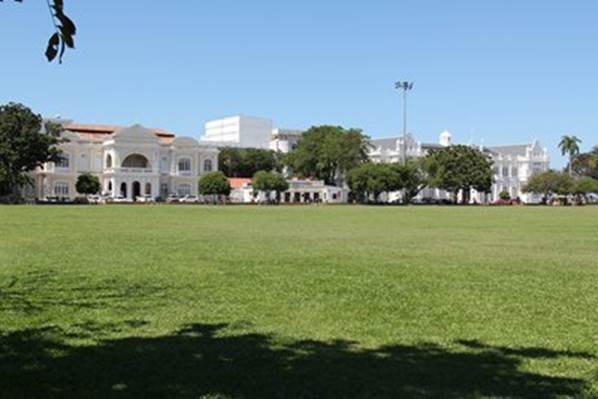 Fine colonial government buildings front onto the Esplanade
The interior of Fort Cornwallis which dates from 1786
And of course the Queen Victoria clock tower donated by a Chinese businessman
This sadly neglected Rolls Royce (1947 'ish– a Wraith?) was the Governors car.
In 1951 this car carrying the governor Sir Henry Gurney, his wife and secretary was ambushed. Sir Henry was killed as he got out of the car his wife and secretary survived. The car collected 35 bullet holes. It is outside the museum and looking rather sad, but not as sad as the Cadillac that replaced it.
Outside the museum, a cycle rickshaw pilot taking it easy – We know how he felt!
---