Two weeks in Marina Tiana, Papeete

Caduceus
Martin and Elizabeth Bevan
Thu 5 Jun 2014 22:38
Date 15-28 15 April 2014
It may appear to be a long time stuck in a marina but there were causes and effect at work. We had deliberately hurried on to Tahiti so that we could get work on the boat started before the Easter shut down. We were fortunate that through the Rally agent, Laurent (who also happens to be the OCC Port Officer Representative) we engaged the service of Gilles, an excellent general marine engineer. This included replacing the mainsail outhaul gearbox with the spare shipped from France, fitting two new lower shrouds to the main mast, putting inserts into the mast for the pole bracket which had again pulled out and a variety of other small jobs. Gilles worked over the holiday weekend so that we were back in working order before many of the other boats arrived.
Being in a marina meant that we could easily get ashore and into Papeete which was a great source of all sorts of bits and pieces and certainly the only good source between Panama and Fiji. Our new bicycles saw service including two trips into Papeete; it was only 5 miles but very hot and busy. There was also a Rally trip around the island, a reception in the Town Hall and some very pleasurable meals ashore and on board with Rally friends.
Down town Papeete
The central market in Papeete, very French
The Rally tour took in one of the islands many spectacular waterfalls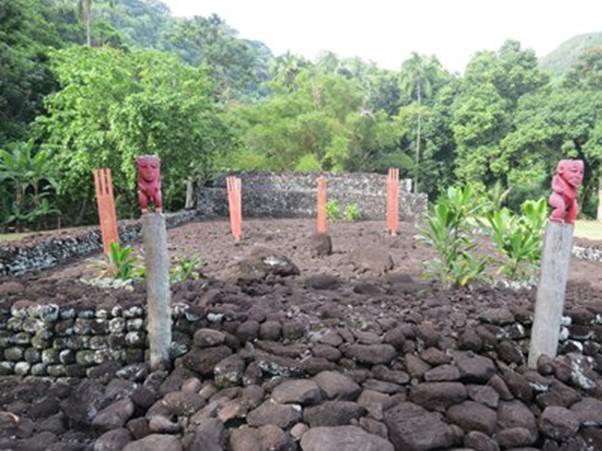 And this carefully moved and restored marae, a ceremonial religious site
The Mate made a "new friend". Look back to 2010 and the blog entry for the party in Las Palmas and you may see some previous on this.
Spectacular dancing at the Rally party in Papeete
A rest break whilst cycling back from Papeete, the island of Moorea in the background
---