Bermuda End to End

Caduceus
Martin and Elizabeth Bevan
Sun 8 May 2011 13:49
Date 2100 - 7 May 2011 (UTC -3)
Friday was a leisurely day which ended up with Happy Hour in the St George's Dinghy and Sports Club overlooking the Town Cut. A jolly time was had by all. We were able to turn out to cheer the yacht Otra Vide on their arrival. They have had an awkward time with fuel blockages which meant very limited engine running and a difficult slow trip.
Waking on Saturday morning there was a flat calm and the sound of PA coming across the water. It dawned on us that there was some sort of charity event taking place and investigation in the local information handouts revealed that it was the 24th annual Bermuda End to End cycle and walking event. By the time that I had digested all of this it was 1000 and over the water came the sound of the start of the cycle event; a challenge! Leaping into lycra and digging a folding bicycle out of the lazarette having been packed off by Elizabeth with some on board support and vitals I dinghied across the harbour and was able to register and get off by 1030.
There were a number of minor issues. Firstly I had no idea where the route went and secondly it dawned on me that this was an end to end which inferred that it did not finish where I had started – worry about that later. As fortune would have it on the way out of St George I came across another late starter, Dean Minors. Dean is a teacher in one of the Islands High Schools, PhysEd and Science. He adopted me for the ride and kept me company throughout and was a great source of information and entertainment. This is a photograph of Dean and I after the finish, complete with sponsors goodie bags and medals.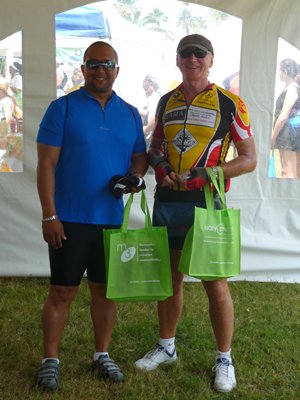 The Coggeshall Randonneurs shirt had an outing for another End to End, not quite John o'Groats in the background. Our shirt sponsors should be proud:
The route was exactly 24 miles and lest there be any misunderstanding Bermuda is not flat, especially on a small wheel folding cycle. The finish at the Dockyard in the north west of the island had lots of razzmatazz and was very well laid on; it even had a London Marathon style water mist
The event is huge with some 400 riders and large numbers of walkers starting at different stages. It reckons to raise over $350,000 for local charities.
As the British Rail used to state "it is not the going it is the getting back". There was a free ferry back to Hamilton, about half way so I took that. No bicycles on buses and realising that the cost of a taxi was a meal out for the rear party (army term for those left behind) it was on the bicycle for what turned out to be a 16 mile ride back to St George along the North Shore of the island.
Looking at it philosophically it was an excellent way to see the island and I am sure that I will recover soon!
The north shore has many beautiful coves and beaches. The North Shore Road runs close by these and was despite the discomfort it was a great opportunity to see the island.
---