Day 2 to 5 with Andrew - Musket Cove then to Manna Island

Caduceus
Martin and Elizabeth Bevan
Mon 6 Oct 2014 06:31
Position 017:40.65S 177:06.47E
Date 1630 Monday 28 July 2014
Distance run from Musket Cove 9nm – 9nm through the water – 1hrs30mins underway
Andrew was very happy to stay and enjoy the facilities at Musket Cove and the Skipper was happy to have some time to install some of the new Raymarine kit that Andrew had brought with him; the radar dome would have to wait until our return to Vuda but the chart plotter and network cables were installed.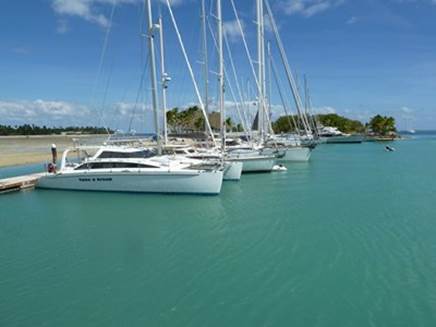 The Musket Cove Dock at low water and looking good in brilliant sunshine
Elizabeth and Andrew took the opportunity to do a two tank dive with the Musket Cove Dive Centre. They were also able to take advantage of the Resort snorkelling trips.
Under water selfies – whose calling who a fish face
Our departure was delayed for 2½ hours – note there is not 2.2m at the fuel dock at low water.  I suspect that the wash from the ferry has created a ridge of mud between the dock and the channel and we found it.  We were able to reverse off back into the fuel dock and stay afloat but we could not leave until the tide had retreated and returned.
Eventually the water came back and the Yasawa Islands beckoned.  We took a short sail inside the reef and crossed to the lagoon at Manna Island for the night.  The entrance channel to Manna Island is narrow, has dog legs but is generally well marked – navigational note, the yellow can (a recycled yellow oil can I suspect) is a port hand marker going in.  Fortunately I guessed correctly as the bow watch reported coral on both sides, just less on the right hand side of the buoy.  Going aground once in a day is quite enough and I chose soft mud not coral.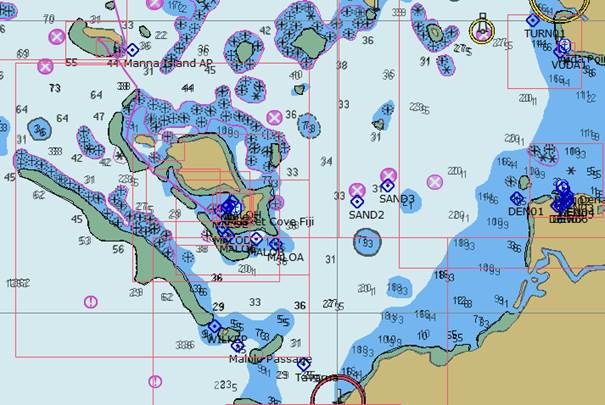 Musket Cove to Manna Island
---