A day out in Barbuda

Caduceus
Martin and Elizabeth Bevan
Tue 29 Mar 2011 22:59
Date 2359 – 29 March 2011
Using the information in the Doyle's Pilot Book we were able to contact John, a Coddrington taxi owner. He undertook to produce a taxi on the beach, next to the Cocoa Point Resort airstrip, at 1030.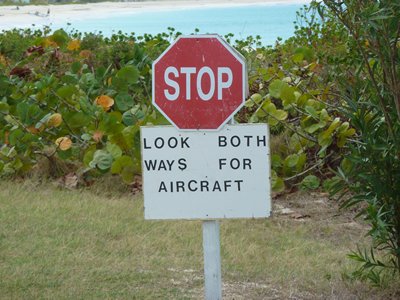 1030 in the middle of nowhere and John, son of John the taxi also known as Levi, was there with his minibus. We set off for Coddrington some 6 miles away over busy Barbudan roads.
One of the first sights was the K-Club Resort, spread over a huge area of beach and shore and now derelict. Reputedly this was a favourite of Princess Diana. Hotels and resorts on Barbuda appear to have a very hard time, there being a number of prominent failed attempts on this beautiful but remote island.
The first objective was a fast boat trip across the lagoon to the mangrove swamp and the Frigate Bird sanctuary. The lagoon provided some interesting sights. This buoy washed itself up on the east coast of Barbuda; it is thought to have broken away from its mooring – in Canada!
In the background of the buoy wee two boys fishing on one of the shallow channels in the mangroves.
The real treat of course as the Frigate Bird Sanctuary; the largest breeding colony of these magnificent birds. The young are 6 months old before they fly so there were lots of them. As we were still in the breeding season the males were still disporting themselves to attract the females which they do by puffing out a bright red pouch under their beak.
Returning to Coddrington we had a wander around. Elizabeth and Kate made the acquaintance of these children outside the school, The Holy Trinity Primary School. They were delightful and very interest to meet and tell us all about themselves.
Lunch was organised by the taxi driver, obviously his cousin, at Cerene Deazle's Palm Tree Restaurant. The Pilot sys that this was closed in 2009 for refurbishment. It is still being refurbished so was a bit of a building site.
It was however great fun, great food and Cerene was delightful. She produced some of the largest lobsters we have seen, well cooked and presented. She even made us a gift of bread from her bakery, also delicious. If you are visiting Barbuda Cerene also has a guest house just outside the town.
After lunch it was off to the airport to use the loos – Cerene's being work in progress; the bank where we left the manager rebooting his ATM and it was then off to the Highlands and to view the beaches and reefs of the north east coast.
If you want isolation and unspoilt beaches, Barbuda is for you.
The return to the boat was a little wet as the wind had piped up, but better on the return than at the beginning of the day.
---