Back to Awei to deliver aid supplies

Caduceus
Martin and Elizabeth Bevan
Mon 15 Jun 2015 22:59
Position           16:31.96 S 167:46.21 E
Date                Saturday 13 June to Monday 15 June 2015
When we spent a night in the Awei anchorage on arrival in the Maskelyne Islands we told Seffron, the head of the families on Awei, that we would return with a sail for his canoe and clothes, food and domestic equipment.  After a week in Uliveo we therefore headed back the 5nm around the reefs to the Awei anchorage.  On Sunday by arrangement we visited the settlement on Awei accompanied by Seffron who met us at their canoe landing beach a 15 minute walk from the settlement which is on the windward side of the island.  This allowed us to assess the situation so that we could match their needs from our supplies.
Two extended families chose to live on Awei and have a well set up and tidy community.
Chief Seffron welcoming us into his village
There is a price to pay for their independence.  The 10 and 12 year old children leave for school before 0700 each school day and paddle a mile over open water to leach the island of Lambong to the east where they then walk to school, it being on the far side of Lambong.  The gardens where they spend most working days tending their crops are on the mainland, ¾nm away by canoe; there are no powered boats here.  At the present time the water cistern, concrete lined, leaks and water for drinking and washing is carried from the mainland by canoe.  With the help of other yachts we hope to remedy this situation with the supply of guttering for their church shelter (a large hard roof) and either repair material or preferably a GRP tank.
We arrange with Seffron that we would take things ashore on Monday when they returned from working in their gardens.  This would have to be in the afternoon at high water and there was the possibility that we could get around the reef in the dinghy to avoid carrying the goodies from the canoe beach.
A well laden dinghy with crew yet to squeeze in
This best laid plan came to naught as the afternoon wind kicked up a vigorous chop that soaked us both so we returned to the canoe beach and indulged in portage ably assisted by the 10 and 12 year olds returning from the 'school run'.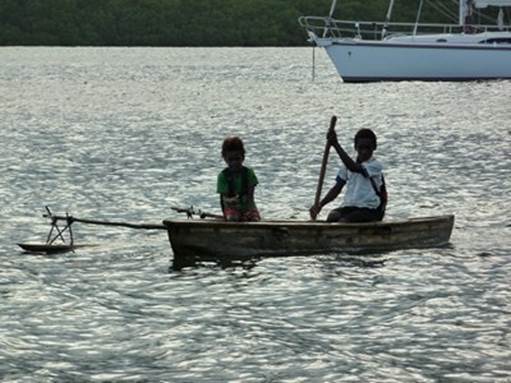 Canoeing breeds strong youngster.
Two of the boys carrying a bucket of goodies.  The one in the foreground took a real shine to the towelling cover-up
Dividing up the spoils
It was a great pleasure for us to be able to provide things for this small community.  Chief Seffron made a formal speech of thanks and gave us a gift of cucumbers and corn as a thank you.  We look forward to returning in a month or so time and hope that we can assist in solving the water supply issue.
---