Lamen Bay, Epi and the Vaemali Health Centre

Caduceus
Martin and Elizabeth Bevan
Tue 30 Jun 2015 22:59
Date Thursday 25 June to Tuesday 30 June 2015
After a day to try and recover from our Island Flu we set off to discover the Vaemali Health Centre that Elizabeth had been asked to visit and help with some clinical reviews.
Lamen Bay was the most prosperous of the villages that we have visited with most of the houses being block built with secure hard roofs
Lamen Bay village itself appears to be relatively prosperous. Whilst there appears to be little cyclone damage to buildings which are in the main well-constructed the damage to trees and vegetation is very evident. As elsewhere in the aftermath of the cyclone crop yields were very low compared with normal but things are improving as the new crops grow.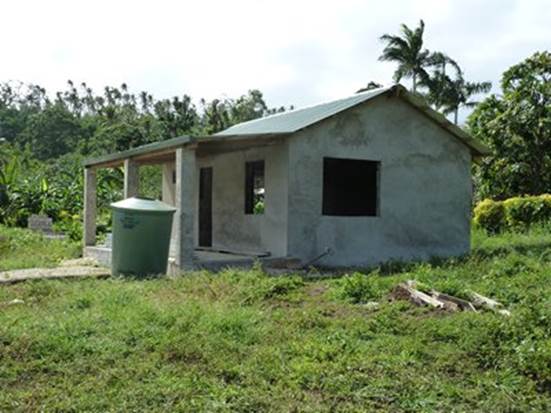 Lamen Bay itself only has an aid post and aid worker. This we were told is a community project to provide a new aid post and dispensary.
It is over a mile from Lamen Bay to the Vaemali Health Centre and most people walk up this steep gradient. It must help keep patient numbers down.
Journey's end.
The health centre which is on the summit of the hill with great views started life as a colonial era leper hospital and consists of substantial buildings containing consulting rooms, a dispensary and two wards, only one of which was in use as a labour and post-natal ward.
The dedication plaque
Nurse Martha has been brought out of retirement to man the Health Centre whilst the regular nurse is off accompanying her sick husband to hospital in Port Vila. She is in need of two new knees – something that unfortunately is not available but is all too common being exacerbated by years of hard work in the gardens
What size pudding do you cook? Elizabeth, Martha and Health Worker Nemali consider the pressure steriliser (cooker) used for instruments
The ward used for in patients who stay accompanied by family members to help feed and look after them
The Health Centre benefits from the original infrastructure including water catchment which provides the pumped running water
The Vaemali Health Centre was well stocked compared with other places that we have visited and had received a good amount of cyclone aid medical supplies in addition to the regular allocation. This was something that had not occurred in Malakula and the Maskelynes which appeared to have had no aid and reduced regular supplies as worse affected places understandably were given priority for scarce resources.
On Sunday Elizabeth had taken herself off for a walk to Welawea, the next village south, unfortunately without a camera as the scenery was very impressive. She encountered a large group of ladies sitting under a tree and had a long conversation with them about "women's matters". This probably accounted for why at one of the clinics at Vaemali just as the staff were packing up for the morning truckloads of ladies appeared all wanting to see the doctor. As well as the worried well there were a number of significant diagnosis although that has to be tempered by the resources available for treatment.
The interisland ferry Big Sista spotted in daylight. This ship runs a 24 hour schedule and many of the stops for dropping off and picking up passengers and freight occur in darkness
The corner of Lamen Bay where we were anchored is well known as a feeding ground for turtles and dugong. For once we actually saw some of each with a great sighting of a dugong taking the air on the surface and some sightings of a huge turtle. As with all such great sightings the camera was elsewhere but at least we both saw them – you will just have to take our word for it.
---