Refuelling at sea and at last a quiet berth at Rebak Island Marina

Caduceus
Martin and Elizabeth Bevan
Mon 8 Feb 2016 17:00
Position           06:17.65 N 099:41.82 E
Date                 17.00 (UTC+8) Monday 8 February 2016
Distance run    12.5nm over the ground
Some running around and diagnostics suggested that the issue with the bow thruster was failed main power relay.  The electrician that I contacted said there might be one on the island, it is a 24 volt relay that is not common stock, but due to the Chinese New Year Holiday this week everything is closed until Saturday at the earliest.  We would not be able to find out for 7 days – wonderful!  Oh and it is still blowing 20-25 knots.  If we are going to have to wait the answer was to head off to the reported luxury of Rebak Island Marina and order the part from AMEL in France.
The first task, other than extracting ourselves from the R$LYC marina was to go alongside the anchored fuel barge and small tanker combination to take on 700 litres of diesel.  This with the wind and no working bow thruster was not a happy thought.  Disappearing 12 miles off downwind and having to come back to fuel was also not a happy thought.  I would like pt have some photographs of this but unfortunately we were "upstairs collecting the fares at the time" so no photographs.  The Indonesian crew on the tanker were brilliant, cheerful and totally unphased.  We gave the fenders a decent work out but came away with no physical damage.  We also came away with four oranges, nicely wrapped, as New Year Gift.  The diesel worked out at £0.24 a litre!
The rest was easy with a wind assisted motor down the harbour to Rebak where despite the staff having knocked off Dagmar and Christoph were on the dock to take our lines.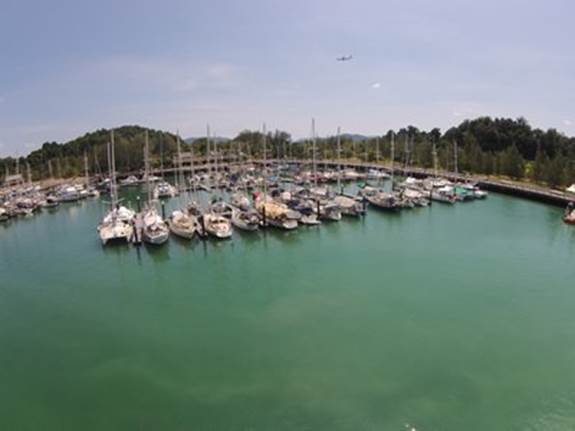 Rebak Marina from the air, courtesy of the Skippers boys toy.
Caduceus is under the tan awning, Flomaida two boats to the left
Marina Guests have the use of the hotel facilities which includes this excellent swimming pool
Dinner in the Cruisers Bar, the Harddock Café, with Dagmar and Christoph.
I will finish off this diary entry and bring the current volume to a close with the information that Flomaida have now their new electronics installed and working.  We have received our power relay from AMEL and I have fitted that.  Provisioning has been done and all seems set for a departure on 21 February.
---