Update from Norfolk

Caduceus
Martin and Elizabeth Bevan
Tue 24 May 2011 13:12
Position 36:51.14N 76:17.89W
Date 0900 - 24 May 2011 (UTC -4)
We have now been here four days being very well looked after by the Ocean Cruising Club (OCC) Port Officers (PO) husband and wife Gary Nagle and Greta Gustavson who live in the Pilot House Condominium and where we are using slips in the condo's private dock.
Gary and Greta have taken us by car to supermarkets, chandlers and hardware stores, put laundry through their washing machine and dryer and done so many things for us. We are so very grateful.
We have an issue with our bowthruster as the motor brushes have worn and fractured which was the cause of the failure when we came to use it to dock here. I extracted the motor yesterday and it is with a local DC motor repairer who I hope can refurbish it so that we I can re-install it tomorrow.
Norfolk has lots to do. Walking the old part of the town is in itself a pleasure. On Sunday we all, Elizabeth, Andrew and Celia and I, had an outing to the Chrysler Museum; a wonderful collection of painting, sculpture and glass. This painting particularly caught our eye:
I will put photographs of Norfolk in subsequent diary entries. For the time being the mate specifically requested that I include the following photographs taken from Alice by Andrew and Celia during the trip from the BVI's to Bermuda.
Plain sailing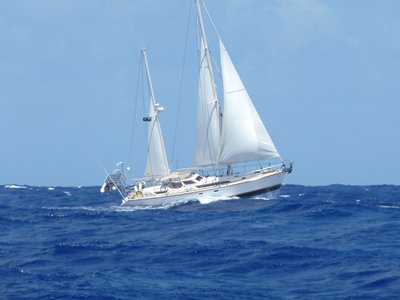 Breaching?
Swell not sinking
Thank heavens for Archimedes Law – yes we float
Heave, ho, just two more to get you into the swing of things
Photographs loose the perspective of the waves but hopefully these give an idea of ocean sailing on a calm, about 25-30 knots of wind, day!
---