Tonga Part 4 - Hunga Lagoon

Caduceus
Martin and Elizabeth Bevan
Sun 21 Sep 2014 04:51
Position 18:41.38S 174:07.53W (Hunga Lagoon)
Date Thursday 19 – Monday 23 June 2014
After a brief visit back to Neiafu to attend to the formalities that required completing in advance for our entry to Fiji and to meet up with the other ARC survivors, Chez Nous and Starblazer, we set off for the Hunga Lagoon on the North West side of the Vava'u Group.
The entrance into the lagoon is narrow, not very deep and the port (left) side of the channel is defined by the clearly visible rock. The technique is to get close to the starboard side past the rock and then hang a right to avoid the shallows immediately after the entrance.
It is a high water only entry and even then you instinctively hold your breath as if that would decrease the draught.
Ignoring the small sport fisherman's' resort we anchored off the village of Hunga. Vaha Maamaloa paddled out in his canoe and welcomed us. Over a cup of tea he explained that he was one of the community leaders, a preacher in the Tongan Church and a school governor.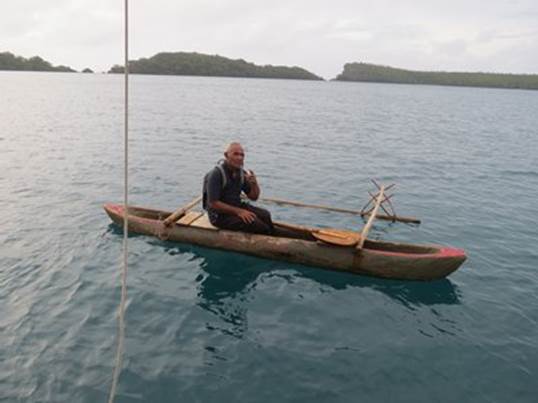 He invited us to look around the village, attend a parents' school fund raiser in the evening and visit his plantation the following day, all of which we did.
The school looked well kept and organised
There was great evidence of industrious plant husbandry with vegetable plants being grown in raised beds, carefully fenced to keep out the free range pigs.
This young boy was doing very well leading his pig – it had something to do with the fact he was dropping a trail of coconut.
This attractive young lady in traditional costume started off the fund raiser. She was coated in coconut oil and the audience were encouraged to stick Tongan dollar notes to her shoulders. Try that at a Coggeshall PTA dance!
Elizabeth nearly caused a riot when handing out lollipops to the children and not so young.
Vaha has some 4 acres of vanilla under cultivation in addition to the usual island vegetable crops and coconuts. The crop is sold to an Australian company who collect the produce in Neiafu
This poor lad suffers from psoriasis and Vaha asked Dr Elizabeth to take a look and advise.
We exchanged gifts with Vaha and were able to buy some very pretty seed pearl jewellery made from small pearls gathered from his oysters. We were also able to denote items of clothing that we had put by for such occasions
This is the Friday shopping outing from Hunga into Neiafu. These small boats, overloaded by our standards make the 3 hour trip in often challenging conditions. The recent building of the concrete road from the dock up the steep hill to the village has made getting up the hill much easier in wet weather
Doing what cruisers do best – socialising on Caduceus with a pot luck supper.
LtoR - The Mate, Jonathon and Donna from Chez Nous and Joyce and John from Starblazer
---