Castine - site of the battle of Majabigwaduce

Caduceus
Martin and Elizabeth Bevan
Sun 17 Jul 2011 21:00
Date 2200 – Sunday 17 July 2011 (UTC -4)
Believe it or not it was the British that renamed Castine to Majabigwaduce. Fortunately common sense and perhaps an inability to pronounce Majabigwaduce prevailed and it was renamed back to one of the original names given to it by the French. More often now the battle is referred to as the battle of Penobscot Bay, much easier on the memory.
More on the battle later. The harbour is dominated by the training ship of the Maine Maritime Academy, 'The Spirit of Maine' and a material proportion of the town is made up of Academy buildings.
The current through the harbour was running at over 2.5kts and the bottom is apparently scoured hard and poor holding. Common sense dictated that we took a mooring belonging to Eaton's Boatyard, the most amazing old fashioned boatyard run by a charming eccentric of indeterminate age and great knowledge. The boathouse building probably says it all. The daily mooring rate of $25 was an additional bonus.
The town of Castine is a beautiful mix of houses and other buildings the oldest of which go back to the 18th century. There has been a great effort by the community to preserve and develop without losing the charm and character of the town.
We sneaked a lunch at Bah's Bakehouse – highly to be recommended; their two species of BLT's Mexican and Betty's Special are well worth putting up with the daffiness of the young staff.
An afternoon walk took us to both of the town museums, the first one of which had a good audio visual presentation about the battle of Penobscot Bay. The battle in 1779 was referred to as the biggest US nautical disaster before Pearl Harbour. An account is in a separate diary entry to avoid killing off the enthusiasm of those not as absorbed as I by such things.
We climbed up to the remains of Fort George, the interior of the fort is now used as a sports field by the local High School. It remains a substantial structure and a testament to the men that dug it from scratch.
Thoroughly walked out we returned to the boat for a quick rest before assaulting Dennett's Wharf for dinner.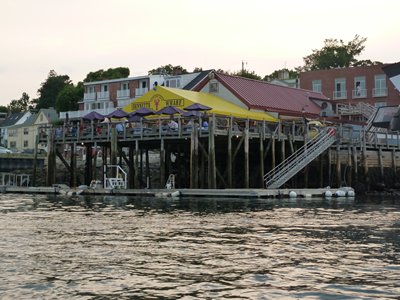 This one gets 5 out of 10 and was the only place open on a Sunday Night. Their selection of beer was good but cooking was nothing to write home about. The Mate sets a high standard!
---