Bermuda memories

Caduceus
Martin and Elizabeth Bevan
Sat 14 May 2011 16:33
Position 32:22.82N 64:40.47W
Date 1200 - 13 May 2011 (UTC -3)
In good sailing fashion we have been holed up in St George's Harbour for a week while a vigorous depression to the north east has provided high winds from the north that are totally un suitable for a crossing of the Gulf Stream. We moved our anchorage to be closer to the town quay as dinghy trips across the harbour became not only very wet but not a little hazardous. We have been able to use the time to advantage and seen a great deal of this beautiful and very friendly island. The best way to show this is by some of the photographs that we have taken.
St George is a beautiful, well preserved old town with many old buildings dating back to the mid 17th century. The Town Hall overlooks the main square.
Walk a short distance out of St George and there are wonderful bays
.
And the ever present reminder of Bermuda's historic strategic value.
An outing to the modern capital Hamilton was just too much for the old boys.
Back in St George the Town Crier has a regular display of local justice with a ducking
ASBO?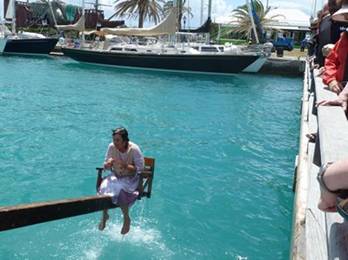 Local transport takes on a traditional style.
Meanwhile boat mascot, Rodney, escaped and was caught high jacking the Noddy Train.
Which resulted in summary justice:
The sail training schooner Spirit of Bermuda made a spectacular sight sailing out of St George's Harbour.
A Beating of Retreat in front of the Town hall by the Band of the Royal Bermuda Regiment and the St George's Pipe Band was a very moving event and very well presented.
Our final outing was by ferry to the Royal Dockyard at the furthest end of the island from St George. This gave a different view of Caduceus as we passed.
The Dockyard fell into disrepair after the start of withdrawal by the Royal Navy in 1951. In 1995 restoration started and it is now very well preserved as one of the largest Georgian Dockyards in the world a major museum and tourist attraction.
The Commissioners House dominates the site and houses the very fine museum.
And finally, thank you to the St George's Sailing and Dinghy Club for their hospitality to all of us visiting yachtsmen. We will be off to Happy Hour this evening as a farewell as tomorrow the forecast looks fair for the USA. The harbour has filled up during the week as more and more yachts arrive but nobody leaves. Tomorrow the harbour is likely to empty as the US bound contingent take advantage of the weather window with the yachts bound for the Azores looking to leave on Tuesday.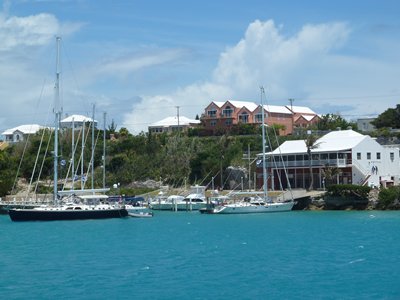 ---