Rai Lei Beach, Krabi - Beautiful but for the constant stream (scream) of longtails

Caduceus
Martin and Elizabeth Bevan
Tue 29 Dec 2015 16:20
Position 08:00.36 N 098:49.96 E
Date 1620 (UTC+7) Tuesday 29 December 2015
Distance run 5 nm over the ground
Today we might have met up with Robert, Stuart's younger brother from South Africa who is on holiday in Ao Nang with friends, but robust weather meant that his friends and he had missed part of a "Four Island" trip yesterday and today was the catch up. Oddly enough the previous day the island that Robert and crew did get to was Chicken Island but the opposite side to where we anchored. We must have sailed past them. We did go round their side for a lunch stop today but if you look at the following photograph and realise that in addition to the thousand or so bodies on the shrinking spit of sand as the tide rises, it was blowing 20 and gusting 28 knots going ashore was not a good option. All in all sailing on to Rai Lei, the bay to the east of Ao Nang seemed a better option.
Yes – dozens of longtail boats and hundreds of bodies
We should have known! Rai Lei is on a direct track between Ao Nang and every known destination, or so it appears. This makes it marginally worse than being moored at the end of the runways at Heathrow – OK mooring boats on the M25 is not allowed but you get the picture. For the uninformed longtail boats are local boats to which is added an engine driving a propeller on the end of a long shaft that balances the weight of the engine. The engine can be anything from a lawnmower type to a modified car engine. The tourist, rather than fishing, boats tend to have car engines to get around faster – V4's seem popular. 75% of these are unsilenced. Normally the odd one does not cause a problem. In Rai Lei we were being buzzed by passing hostiles at the rate of one per minute and it went on well into the evening.
We solved the problem by going ashore with Dagmar, Christoph and Mieke for sundowners and to eat.
The dreaded longtail, one worse than mosquitos with no known spray to get rid of them
A view of into Rai Lei beach during a gap in the traffic. Flomaida as usual setting the scene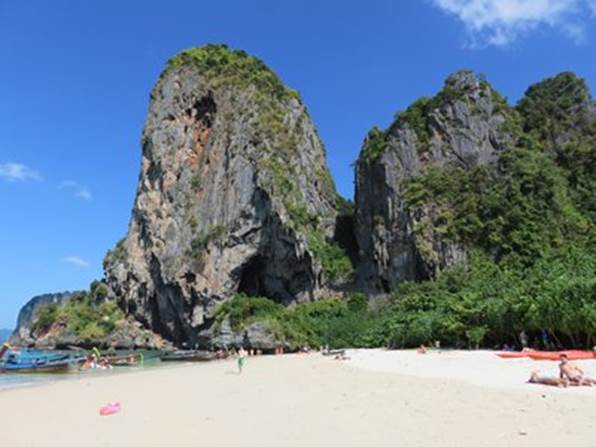 In the morning we took another trip ashore to admire the scenery
Looking out from the beach. Caduceus is just to the right of the island
---