Leg 3 - Marquesas Day 7 - Day in the life of a fruit cake -o f the banana variety of course

Caduceus
Martin and Elizabeth Bevan
Mon 10 Mar 2014 01:39
Position 06:24.89S 109:37.69W
Date 1200 (Central American Time) Sunday 9 March 2014
Distance run - 196nm over the ground, 185nm through the water
Distance (OG) covered from start 1,232nm
Distance to destination 1,757nm
Original distance to Marquesas (straight line) 2,962nm
Today's entry is courtesy of the Mate with shades of politically incorrect size'ism.
Banana cake making, now an Olympic sport.
Rain last night soaked off the previous night's squid from the deck but me thinks more arrived this morning after the rain which was very heavy and wet! More bits seemed to be stick to the side deck when we were taking the Gennaker off this afternoon which had been left up in case it was needed. However, today we are zipping along at about 8 knots in 15-18 knots of wind. Actually it is a very comfortable motion, except when cooking.
I made a Banana cake this morning as the banana harvest is getting to a critical level despite the magic yellow Lakeland bags. I think baking a cake or any cooking at this angle of speed is an aerobic sport coupled with Pilates and yoga. The formats is:
1. Gather ingredients, butter from fridge, sugar, flour from under floor, excavate bananas go on deck to throw away rotting ones!
2. Find mixing bowls. This entails sitting on galley floor and emptying lower cupboard.
3. Sugar is lumpy from humidity, back onto floor to find Bamix mill, find Bamix wand, grind, whoops nearly lost sugar but caught it.
4. Oh dear a banana has launched itself under the chart table, retrieve it.
5. Lie on floor to get out Remoska as oven. Plug it in.
6. Forgot eggs when retrieved bananas so back to the fore cabin climb onto bunk find eggs, successfully return with 2 unbroken and break in bowl extract shell.
7. Mix ingredients, the easy bit, until I realise cannot find baking powder in the locker which is not suited to people of short stature. Find folding stool, use it, very tricky as keeps sliding under me but hooray get baking powder.
8 Finally mixture is finished. Place in pan. Bake in Remoska which is happily swinging on gimbled cooker.
9. Suffering from dehydration and exhaustion, collapse worn out and lie in cockpit.
I will decrease my time for this event next time.
All for now must dry up before washing up self-launches itself, again.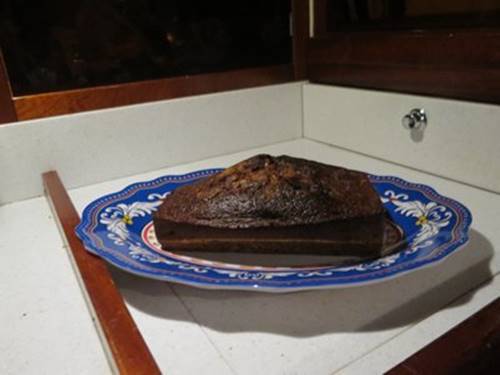 Bananarama – French pottery (melamine) plate courtesy of a rather nice kitchen shop in Austin and father Christmas in the shape of Andrew
Sailing note, yes we do that as well. A wonderful day of a beam reach with steady winds from the south south east to south east at 15 to 20 knots with the promise of more days like this to come. The Rally boat Andromeda V, a Grand Soleil 50, appeared on the AIS at 0200 and stayed visible. From their fluctuating speed and variable course I would suspect that they were flying a cruising chute or something similar.
---