Norfolk to Fort Lauderdale Day 7 - A strong finish

Caduceus
Martin and Elizabeth Bevan
Thu 9 Feb 2012 11:00
Date                1100 Thursday 9 February 2012
As we got further into the Florida Straits the constriction forces the north going Gulf Stream closer to the Florida coast.  It is amazing that a half mile further inshore made; the difference between 1½ knot against us to 1 knot with us.  Definitely a call for classic Mediterranean navigation, i.e. keeping one foot on the beach.
The well known names passed by, Palm Beach, Boca Raton and then Fort Lauderdale where we arrived at the outer edge of the channel at exactly 1100 and followed something very much larger into Port Everglades.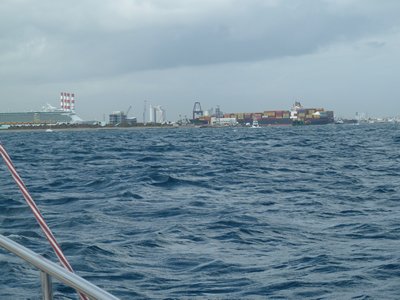 The large container ship is manoeuvring hard to port after filling the entrance channel.  How it squeezed around the cruise ship and set  off down the ICW is a mystery.
---