Akhamb Island

Caduceus
Martin and Elizabeth Bevan
Tue 23 Jun 2015 22:59
Position 16:30.88 S 167:38.90 E
Date Saturday 20 June to Tuesday 23 June 2015
Distance run 14.2nm over the ground, 13.5nm through the water
Chart showing the 15nm route outside the reefs from Uliveo to Akhamb Island
Akhamb Island, 14nm to the west of Uliveo was the next destination that we had been requested to visit so we took the high tide at 0900 to leave the lagoon at Lutes. This is always an excitement and was not helped by re-reading the pilot book that informs you that at one point the channel between reef and bommies is only 15 metres wide and that there is a bar which at high water can give a depth of under 5 metres so it is breath in all round. I would like to think that it is worse than it sounds. There is a potential route, used by local boats inside the reefs and islands, you can spot it on the chart above. "The prudent mariner", however, will go outside through decidedly bumpy seas. There is one lovely reef marked on the chart with the inscription "Breaks extensively even in calm conditions".
Notwithstanding this melodrama we sailed most of the way and pitched up off Akhamb Village, anchored and decided to take the day off. Elizabeth was still feeling under the weather and to cap it all has come out in a bright red all over rash in what appears to be a rare allergic reaction to the anti-malarial drug, Malarone. One in a thousand and guess who gets it? Modesty prevents me publishing the photographs.
Our initial contact was the headmaster of the island school, Mr Ivan Meltely and he kindly met us on Sunday afternoon and showed us around the village.
A happy smiling welcome from chaps who helped us get the dinghy up the beach
First impressions were correct and of a well-tended clean and tidy traditional village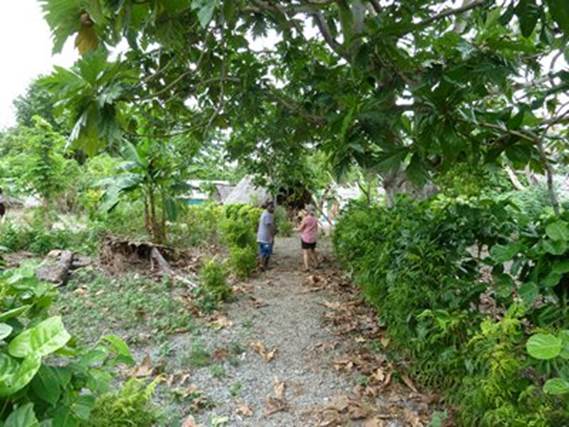 Elizabeth walking ahead with Ivan
Luwoi Primary School, Akhamb Island. It is Sunday so no mobs of children. We visited again on Monday and presented books, tennis balls and stationery
The Akhamb Dispensary. This little lad was born albino and desperately requires both sun glasses and reading glasses. Something more for our Port Vila shopping list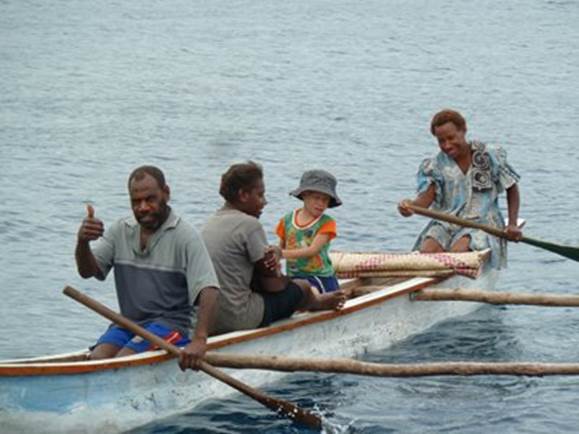 His very supportive parents had brought him over from the mainland. We were able to find a hat from our supplies, a little on the large size but better than nothing. Mother runs the Kindy on the mainland village of Farun.
I will just wheel you down to the surgery – transport Akhamb style, and very effective.
The young lady has a badly infected foot that we hope will respond to the dressings and drugs that Elizabeth was able to supply
Akhamb Island has not had a nurse for 5 years and the community of 300 people on the island and a similar number on mainland settlements depend on Haidriv Frank whose training is that of a Health Aid Worker, far less than that of a nurse. It is as well that Haidriv is able to operate well above his pay grade for as the headmaster put it, the community depends on him for their lives.
Word quickly got around that there was a doctor in town and Elizabeth saw a wide variety of cases some of which she will be able to follow up on our return in 4 or so weeks' time, in addition to a number of potential referrals. A boat trip was made to one of the mainland villages opposite Akhamb to visit the mother of John Jack who had leg lesions and was reported to have possible symptoms of hypertension and diabetes. John Jack works in central government in Port Vila and was visiting his mother bringing an electronic blood pressure monitor and an electronic glucometer to help diagnosis. Fortunately she appeared neither hypertensive nor diabetic. He generously donated the equipment to the dispensary where they will be extremely useful throughout the community. Elizabeth was able to provide and prescribe a regime of slightly more advanced medicines and by the end of the week it was reported that there were signs of improvement.
Our final visit before leaving Akhamb was a visit to the island Kindy. This is run by a most excellent lady who herself has Down Syndrome child and for whom we are in the process of obtaining specialist training and educational resources from the USA, courtesy of our friends Donna and Jonathan on the catamaran Chez Nous.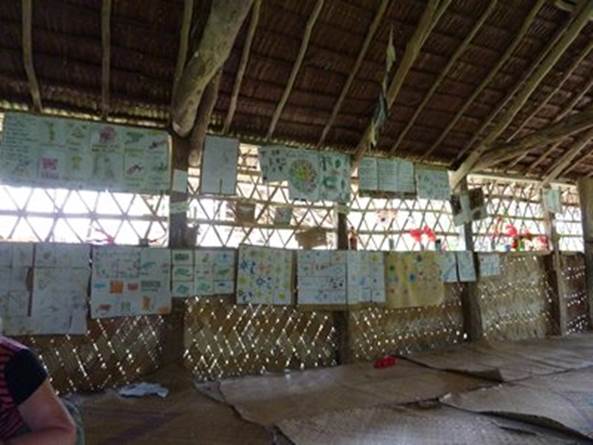 A good example of the inventive home-made training aids in the Akhamb Island Kindy
A mass turnout to wave goodbye. What chaos our tennis balls caused there we know not.
---