Port Sandwich and Lamap - a land time has forgotten

Caduceus
Martin and Elizabeth Bevan
Thu 6 Aug 2015 22:58
Position Port Sandwich and Lamap, SE Malakula
Date Monday 3 to Thursday 6 August 2015
From Port Sandwich to Lamap is a robust 45 minute walk or a bone shattering 15 minute truck ride. There are times when walking is easier. Its links with outside world are by truck over rough tracks to Norsup in the North, truck and local boat to the islands or the luxury of plane from Lamap International (Joke, it is a grass strip). Life appears to have stopped 35 years ago on independence. It is reminiscent of descriptions of what England must have been like thirty five years after the Romans departed.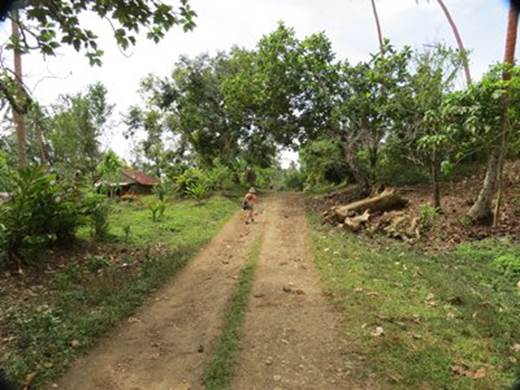 The track up to Lamap, on of the better bits of surface
Everywhere there are derelict buildings. In 1980, the year of independence Lamap had generators and power. The generator was taken away two years after independence to be used somewhere else and there is a general air of waiting for it to magically reappear. It becomes easier to understand how the cargo cult was dreamt up, waiting for the Americans of WWII to reappear and drop things from the sky.
Looking around we recall the observation from a village elder in Erromango last year that perhaps Vanuatu got its independence 25 years too early and before there could be a larger well administered input of investment in infrastructure and training.
The geography of the country being spread over so many islands, the diverse cultures and native languages, a lack of modern infrastructure, no major source of external trading income and the manoeuvring of government policy to reflect regularly changing strong individual island loyalties make it difficult to envisage a way forward for the country. At a grass roots level outside of the capital island the people appear content with their lot and work hard at their traditional ways of subsistence living whilst the rest of the busy world passes them by.
Everywhere you look are the shells of derelict buildings. Part of this complex was the police station. Note also the remnants of a power distribution pole and insulators on the left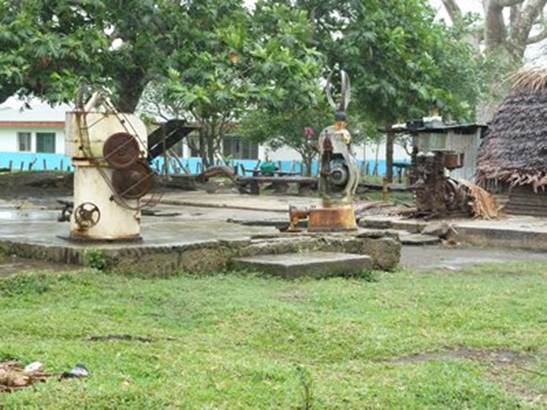 The abandoned remains of a full blown industrial bakery are reminiscent of a sculpture park
The generator shed
The community and surrounding villages seem to manage perfectly well in their own inimitable Vanuatu style having very much returned to their own form of island living based on subsistence farming and the use of natural materials. There is employment in the copra industry and a thriving cattle rearing operation. The community appears wealthier overall than the Maskelyne Islands, possibly due to the income generated from employment in the local industry. Solar panels are sprouting outside houses and huts and mobile phones abound so money is coming from somewhere.
I will deal with the Health Centre in the next posting.
---