South to Whangarei Day 2 - A new home for Caduceus in Rivers ide Drive Marina

Caduceus
Martin and Elizabeth Bevan
Fri 21 Nov 2014 19:25
Position 35:43.70 S 174:20.04 E
<![if !supportLists]>· <![endif]>Date 1925 (UTC+13) local time New Zealand
<![if !supportLists]>· <![endif]>Distance run 49nm over the ground, 49.5nm through the water
<![if !supportLists]>· <![endif]>Starting off just after 0800 and with our entry into Whangarei being limited to high water plus or minus two hours, and high water being at 2000 we were able to take advantage of what wind there was to have a leisurely sail until we entered the wind shadow of Bream Head.
<![if !supportLists]>· <![endif]>
Bream Head
As the wind had become light and offshore we were able to anchor in Smugglers Bay, just before the entry channel of Whangarei Heads, and enjoy a leisurely lunch and afternoon whilst we waited for the tide. From Smugglers Bay to Whangarei and our destination of Riverside Drive Marina (RDM) is 15nm with the added complication of a lifting bridge that ceases to operate at 2000, the time of high water for the day. We made it with time to spare but did see a minimum depth of 1.4m under the keel. Given a tide range of 2 metres you can understand why we required the tide to make it up the river.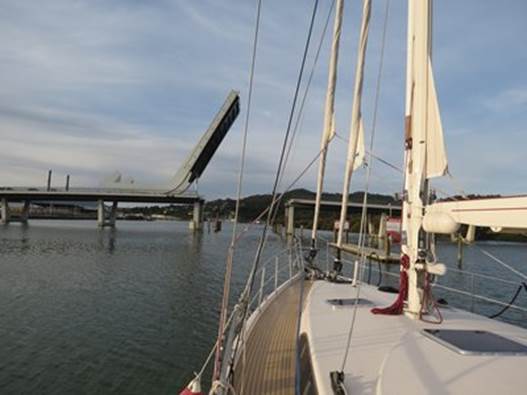 Obstacle of the course - the new Whangarei lifting bridge
RDM is a small marina with just 30 berths, situated a five minute bicycle ride from the centre of Whangarei. There is a community of liveaboards who turned out to assist us into our berth and make us welcome. For us there are many advantages over the Town Basin, not the least being the fact that it is much quieter, out of the public view and has parking. It will be a good home for Caduceus until next May when we start sailing again.
Riverside Drive Marina with Caduceus just visible bows in
The view from our stern looking upriver into the Town Basin
---