Six days in Port Washington - sight seeing in New York

Caduceus
Martin and Elizabeth Bevan
Sun 16 Sep 2012 22:59
Date Sunday 16 September 2012
We anchored for the first night then moved to a transient mooring which was free for the first two nights and then $25 per night thereafter which included a launch service and pump out boat so very good value. 15 minutes brisk walk took us from the town dock to the railway station from where regular trains ran directly into Penn Station in the centre of Manhattan. We managed three trips into the Big Apple.
Trip 1 – Around Manhattan Island Boat Trip
We walked from Penn Station to Pier 83 for the Circle Line Round Manhattan Island Boat Trip and then decided that a one week Metro Card was a good investment
Blessed with perfect weather the views over Manhattan were stunning – the Empire State Building is in the middle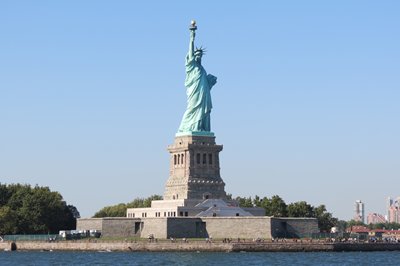 There must be billions of photographs of the Lady of New York; it is nevertheless an iconic and wonderful sight
when viewed from all sorts of angles, here seen under the Brooklyn Bridge
Lower Manhattan from the East River; the Chrysler Building is in the centre
And with my magic new camera you can zoom in on the gargoyles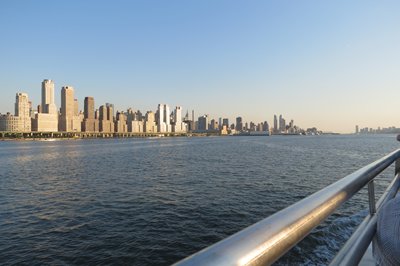 Having circumnavigated Manhattan Island on our boat tour the final leg was down the Hudson River
Trip 2 – Cycle along the Hudson Riverside Park and through Central Park
The first leg of our conducted tour was north up the Riverside Park
Just to prove that we have been to Central Park, in fact we cycled some 5 miles around it
The last place that we visited in Central Park was the John Lennon memorial in Strawberry Fields, close to the Dakota Building where he was murdered
Trip 3 – Walk through Battery Park and a return trip on the Staten Island Ferry
Battery Park is at the south end of Manhattan Island and we joined it at the memorial to the Irish Famine. This features images constructed from materials imported from Ireland; here a derelict cottage abandoned during the clearances
The 12 metre yacht America II gives boat trips from the North Cove Yacht Harbor
The Immigrants Memorial near Pier l
This bunch of very entertaining street artist made it over the five young ladies and somersaulted to land on his feet.
Another day of perfect weather gave more wonderful views over the harbour, this time from the Staten Island Ferry
Andrew and his girl friend Nicole arrived on Sunday evening from Austin, Texas which made for a great evening in preparation for the trip into New York in the morning.
---