A short trip and a change of venue - Little Cranberry Island

Caduceus
Martin and Elizabeth Bevan
Wed 1 Aug 2012 17:40
Date 1840 Wednesday 1 August 2012 and followings days to 3 August
All necessary tasks completed it was time to move on from Valley Cove, tempting as it was to stay. The Mate however wanted a floating dinghy dock and the brute force, i.e. the Skipper, required to lug the dinghy up a stony beach, tended to agree that this would be useful.
A 5 mile motor, virtually no wind but in case you ask we did set the main and genoa to take advantage of diesel produced wind, took us to Little Cranberry Island. Our first anchor set put us too close to the busy fast traffic to and from the various harbour jetties. The second time around we were a little further out which helped.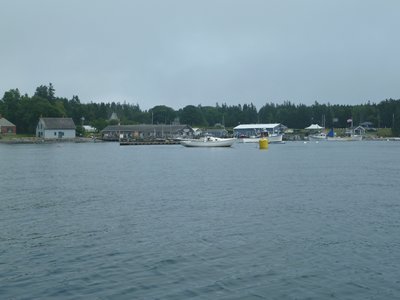 Walks ashore were good. There is quite a community with a combination of local fishermen's homes surrounded by piles of fishing and other junk, some smart holiday homes and rentals who seemed inhabited by a rather more liberal young crowd.
The post office reputedly sells the most postage stamps of any post office in Maine and then somewhat mysteriously adds, mail order. Perhaps that should be 'male order'; who knows.
Certainly if you want anything other than booze, onions the odd tin and reheated pies you would be out of luck. A charming a eclectic mix with welcoming staff.
The second day of our stay here the fog came down. This made finding the town jetty interesting and finding the boat on return even more so. A handheld GPS was the solution, other wise there could have been another transatlantic crossing.
---