Brewer's Bay Tortola

Caduceus
Martin and Elizabeth Bevan
Thu 28 Apr 2011 11:20
Position           18:26.74N 64:39.05W
Date                1220 – 28 April 2011
A leisurely morning with some swimming and we set off back to the main island of Tortola and Brewer's Bay.  This is just to the east of Cane Garden Bay and according to tour pilot book is out of bounds to charter yachts due to the coral reefs which split it up.  Certainly care is required to find the spots where you can anchor on sand and with adequate depth.  We had to ourselves until late afternoon when a live aboard catamaran arrived, but there was lots of room so no overcrowding.
It s amazing how quickly fouling grows on the water line.  Removing the same is definitely good aerobic exercise.  We now have a clean waterline and aching shoulders.
Late afternoon was the opportunity for a walk ashore.  The pilot says there is a camp site which there is – one happy camper, but the overall air is one of dereliction which has its own particular charm.  One bar was open and this still had its Christmas tree on display.
An interesting sight was this abandoned distillery with the copper stills in place.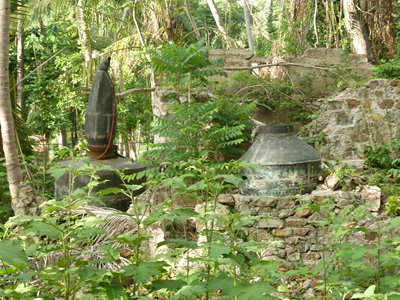 Can you imagine how long they would stay in place in the UK?
We really enjoyed Brewer's Bay, when we say there were some old cows on the beach we really mean it.
Back aboard we had a real treat; one of our remaining fillet steaks "joints" from the freezer.  I was even allowed to cook it on the barbeque and 25 minutes and it was beautifully á point, even if I say so myself.  Elizabeth performed a magic trick and produced a béarnaise sauce and the whole was washed down with a very acceptable claret.
---