Anchored off the Maikai Yacht Club and around Bora Bora by bicycle

Caduceus
Martin and Elizabeth Bevan
Mon 16 Jun 2014 23:30
Position 16:31.65S 151:44.72W
Date Monday 12 May 2014
Following our successful outing to Bloody Mary's we moved across to the Maikai Yacht Club and in the absence of a spare mooring anchored in time to watch the 1400 start of the first Rally group to set off for Suwarrow.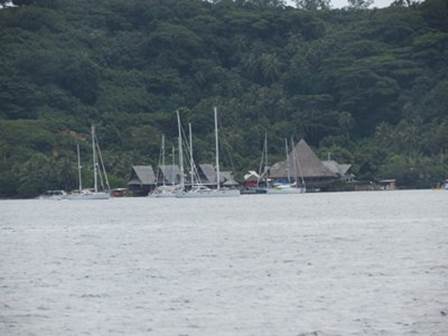 MaiKai Yacht Club, Bora Bora
The MaiKai Yacht Club provided a good base with great facilities. We were able to get our bicycles ashore and together with our friends from Flomaida and Tulasi we cycled around Bora Bora. Our new bicycles gave us an easier ride than the Bromptons.
Team photograph outside Bloody Mary's, which on this visit was closed
Unless you are on honeymoon Bora Bora does not have a great deal to offer. The scenery is however dramatic:
The lagoon looks great but is heavily populated by bungalow over the water style hotels. The must be over a thousand of them although how many are actually open and trading is a different matter. Closed hotels are a feature of the Society Islands.
Not everyone can afford a motor vehicle but this local man had a very smart bicycles for his load of coconuts.
We were able to do some re-provisioning of fresh produce and bread from the local shops. Thieving has been a real problem in Bora Bora with boats losing all sorts of things off the deck and out of tethered dinghies. Dagmar came out of the supermarket to find that someone had tried to take bolt cutters to her bicycle lock. It gave me an excellent excuse to wait outside the supermarket and guard the bicycles rather than push the trolley (US - cart).
Our pre-departure party at the MaiKai was a most excellent barbeque, helped by having only half the fleet competing for the food.
---