Fulangi, Huvedhoo Atoll

Caduceus
Martin and Elizabeth Bevan
Mon 4 Apr 2016 13:50
Position 00:40.598 N 073:11.819 E
Date 1550 (UTC+5) Monday 4 April 2016 through to Sunday 10 April 2016
Distance run 20.6nm over the ground
We moved south, away from inhabited islands and anchored off the island of Fulangi. You definitely require good light to get in here as there are a number of small reefs and bommies rising abruptly from 20 metres to just below the surface. Our anchor spot was in about 18m and we thought that it was on sand until we came to take the anchor up. This is definitely an anchorage where attaching floats to the chain to keep the upper part off the bottom would be a good idea. If anyone is coming to this anchorage, it may well be possible to fund a shallower, suitable spot closer to the main reef as there are some large sandy patches. This would require the wind to be firmly in the west however. During our stay we had wind from all the points of the compass.
This is what we were avoiding. Very pretty snorkel but something to miss with the yacht
We stayed a number of days here which allowed Flomaida to catch up. This time also allowed us to explore many of the small reefs and bommies where we found an abudant amount of good coral and fish life. The followijng photgraphs were all taken around our Fulangi anchorage.
Nurse sharks trap prey in cracks and crevices and suck them out which is what we assume this one was doing. It certainly made it easier to photograph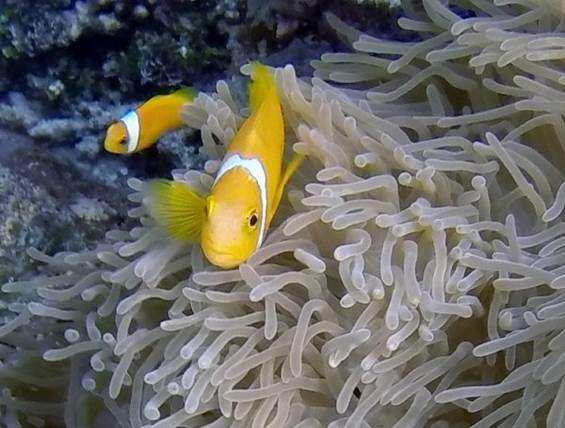 These very cute Maldives' Clown Fish have a symbiotic relationship with the sea anemone within the tentacles of which it lives and breeds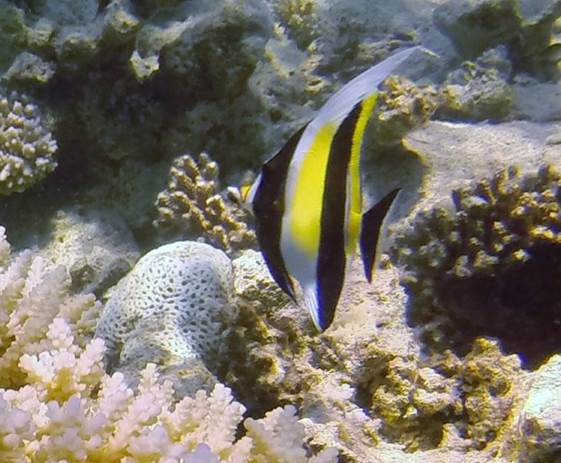 Yet another attempt at photographing a Moorish Idol
For Monty Python fans, underwater shrubbery but no Knights of Ni.
Actually it is an unusual and beautiful hard coral, about 2.5 m across and 1.5m tall
---