Lunenburg to Carters Beach - and guess what, we did not see much

Caduceus
Martin and Elizabeth Bevan
Sun 28 Jul 2013 19:00
Position 43:54.55N 064:49.13W
Date 2000 (Canadian Atlantic) Sunday 28 July 2013
Passage Run – 43.6nm – 43nm over the ground 2/3rds thick fog
As photographs of fog are not much fun, have some photographs from Lunenburg. On Saturday there was a race for all of the wooden boats gathered for the festival. It appeared that whilst we were in the anchorage we were also some sort of windward obstacle as boats were going whichever way around us. We certainly had a ringside seat, if at times a little close for comfort. One had to hope that seamanship was overcoming testosterone driven alpha male complex (theirs not mine)
We rather whiled away Saturday, bar a trip ashore to raid the excellent small supermarket, until the evening when David, Heather and Cara from Dragonfly came over for drinks and a meal; one of the Mate's excellent chilli's with salsa and other bits.
Sunday looked good for going westward again, not very much wind but at least not the prevailing 15 knot headwind. However our dilatory approach to sightseeing meant that we had not visited the Fisheries Museum so we fitted in a visit before sailing. The museum is a must if you come to Lunenburg. A section is devoted to the Schooner Bluenose, the most successful racing fishing schooner ever which was built and based in Lunenburg.
The display on Rum Running in the late twenties was an interesting example showing 'ingenuity and diversification' driven by legislation.
There were also some great paintings.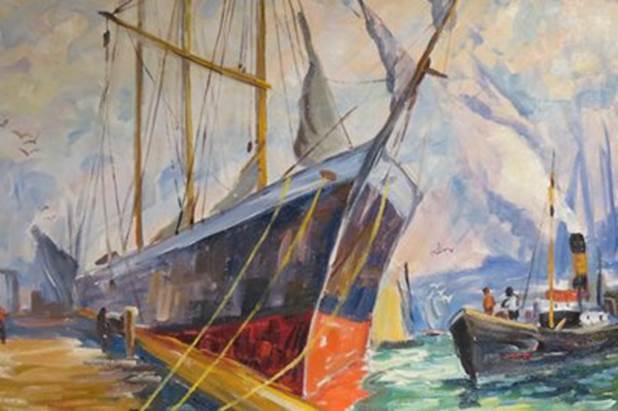 En route to the jetty we called on and met Steve and Cheryl Westwood from the UK who crossed the Atlantic in 2012 and were heading down east. They had been looking for a Port Officer to help them sign up for the OCC; it is a shame that we are not on commission!
We eventually got away just before 1400 with 40 or so miles to cover. Enjoy the photograph of Rose Head, we thought that it was great to be able to see where we were going. Unfortunately that was one of the last things we saw before a fog bank descended.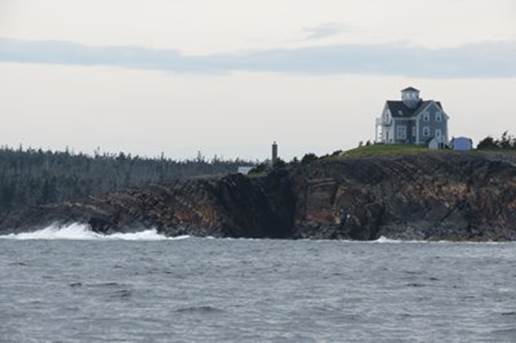 The layered granite around Rose Head was very attractive and from the look of the car park and number of cars was tourist attraction.
Feeling our way into Caters Beach was fun. We could see two boats anchored, on the radar and a mile distant Dragonfly's AIS appeared on the plotter just as the visibility lifted enough for us to be able to see the yachts, the beach and a suitable place to drop the hook. Fortunately the Mate had decided that we would not barbecue and a superb chicken, mushroom and maple cured bacon in white wine cream sauce was produced in lieu.
---