Five days in Halifax at the Royal Nova Scotia Yacht Squadron

Caduceus
Martin and Elizabeth Bevan
Sun 21 Jul 2013 22:59
Date                Wednesday 17 July 2013 to Monday 22 July 2013
Time flies when you are enjoying yourself and our five days at the RNYS were no exception.  We had a great dock and were joined on day 2 by Dick Oppenheimer and Linda Dalton on Second Chance who we had met in Shelburne; here seen on the next dock to Caduceus.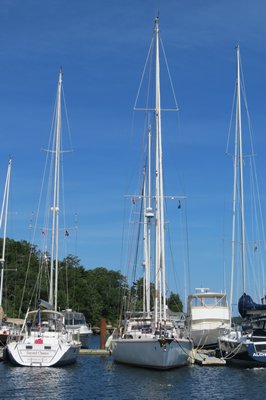 A couple of days were spent giving the boat decks and gunwales a good clean, something long overdue having wait for a good supply of fresh water for washing down.
The club is set in great grounds and provides full facilities.  Warnings that it was stuffy with a dress code were totally incorrect and we felt very much at home, enjoying the bar and restaurant services to give the Mate some time off.
Cycling was a useful way of getting around, the hills were definitely good for us.  I think that we are both a little out of practice.
One of our cycle trips was to the Binnacle Chandlery.  A most excellent store some 3½ km away and with some good hills.  Actually we only cycled one way as we were given a lift with our cycles by club members Peter and Carol, both retired paediatricians with a Tartan 38 moored opposite to us.
At last I was able to get the elusive bits to enable me to fit a replacement bilge pump.  I bought the pump in Norfolk and also had the stainless steel bracket made there by Howdy Bailey but a always short of some of the couplings to join the pipework into the existing system.
For the last few weeks we have been having to help the old pump, using the manual bilge pump, as it was labouring to clear the water which by design flows into the bilge form all of the sinks, showers and the washing machine.  We are no back into fully automatic mode.
On Saturday we took the bus into Halifax to do the waterfront and in particular the Maritime Museum, which was excellent and where we spent a lot of the afternoon.  The boardwalk was very buzzy and busy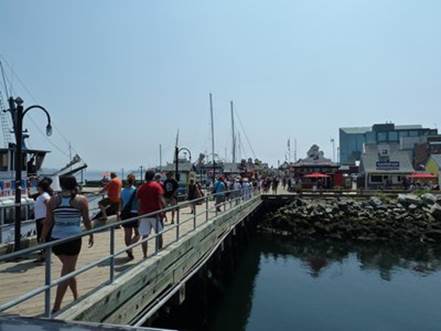 with many things to see such as the preserved World War II corvette, HMCS Sackville now a Canadian war memorial.
The American Coastguard square rigged ship Eagle was in port and open as an attraction.
---