Distribution of rice to villages and the Independence Celebrations opening ceremony

Caduceus
Martin and Elizabeth Bevan
Sun 26 Jul 2015 22:58
Position Uliveo, Maskelyne Islands
Date Sunday 26 July 2015
Getting half a ton of rice onto the boat in Port Vila whilst attached to a dock was one thing. Getting it off when we are at anchor is quite another, esepecially when the geography of Uliveo is taken into account.
Chart of the island of Uliveo showing our various tracks recorded over a period of three months
The main villages are Pellonk in the north, Peskarus which occupies the west and spreads down the hook of land and Lute sin the south east. Sangalai is where the school and dispensary is located and can be considered as part of the village of Lutes. The area to the east is heavily wooded and the island is 1.6km (1 mile) wide by 2.4 km (1.5 miles) from north to south. To put all of this into context the walking distances are:
Lutes to Peskarus 1 km .6 mile
Peskarus to Pellonk 1 km .6 mile
Pellonk to Lutes 1.5 km 1 mile
Round trip 3.5km 2.2 miles
During our time on Uliveo we seemed to do at least one circuit a day meeting people of Elizabeth doing house calls.
At high tide local boats can get around inside and over the reefs to beaches at each of the villages which makes delivery easier. As there are no vehicles on the island most things that do not go by boat or canoe are carried between the villages.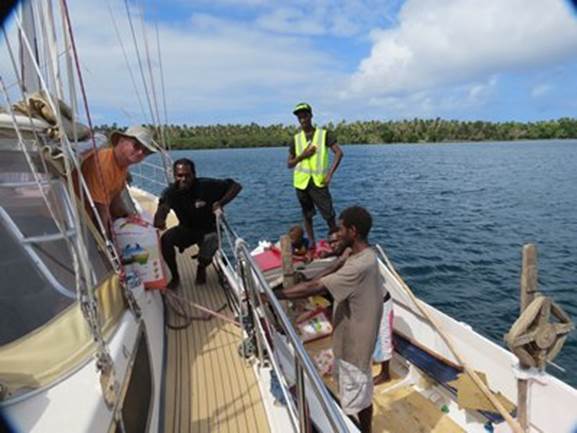 It may have been Sunday bit we were able to get a local boat to cart the goodies
Handing over the rice to a Church Elder at Pellonk for safe keeping pending divvying up tomorrow
The rice having been delivered into safe keeping ready for dividing up on Monday we returned to Sangalai School for the opening of a week of celebration for the 35th anniversary of independence. This time we managed not to miss the "devotions". I was accompanied by the guide Stuart whom we have got to know well and who has loked after us and kept us out of trouble. Even he thought that the sermon at 35 minutes was a little on the long side, especially after 12 minutes of prayers (admission – I still maintain the school boy habit of timing these things). To quote Stuart "Pastor Abraham just does not know when to stop"
u
The Lutes Christian Fellowship group presenting a tableau about an early missionary att he opening of the Independence Celebrations
The Vanuatu flag flew at half mast for the week as amark of respect for the first prime minister who had recently died. The stage is covered by a temporary shelter, cyclone Pam having removed the previous hard roof. It was under that hard roof that I played the pipes to the children last year. The two events having nothing to do with each other.
---