The Havannah Passage with a stop at Ilot Maitre

Caduceus
Martin and Elizabeth Bevan
Fri 31 Oct 2014 23:07
Position 22:19.92S 166:24.35E
Date 1655 (UTC +11) Sunday 19 October 2014
Distance run – 29.4nm over the ground, 27.0nm through the water
Time from Anse Majic, Baie Prony – 4hrs 30mins
Diagram showing the Havannah Passage, the eastern entry to Noumea
The Havannah Passage is a deep water route between islands and reefs. It is well marked and ideally should be taken with a favourable tide as the current can run at over two knots in articular in the Canal Woodin. A late start at 1225, after a leisurely breakfast, the only thing missing was the Sunday paper, meant that we caught the flooding tide which helped our downwind passage.
Still too early to enter Noumea we anchored being Starblazer and Firefly off the popular local holiday resort of Ilot Maitre.
John and Joyce from Starblazer very kindly asked us to join Firefly and them for sun downers. As we were still somewhat jet lagged, or more accurately passage lagged, we were party poopers and settled down at home with barbequed T bone steaks followed by an episode of Downton Abbey (Series 4, we are catching up).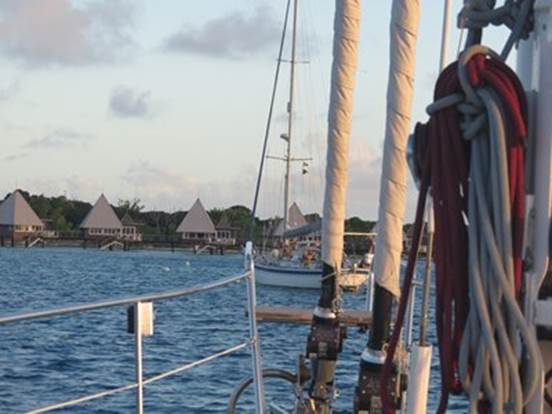 Anchored behind Starblazer at the Ilot Maitre
---