Rogues Roost to Deep Cove, Mahone Bay

Caduceus
Martin and Elizabeth Bevan
Thu 25 Jul 2013 13:00
Position 44:31.55N 064:06.19W
Date 1400 (Canadian Atlantic) Thursday 25 July 2013
Passage Run – 22.0nm – 22nm in 3hrs 20mins
Waiting until it stopped raining and the fog cleared meant that we spent Tuesday and Wednesday in Rogues Roost and very pleasant it was too including drinks aboard Dragonfly, Dave, his wife the Reverend Heather (an Anglican Priest in Charge) and their daughter Cara plus dog Coco and cat Spinnaker, from Toronto and in the company of Honeywind II, Adam and Sandy, from Halifax. One of the fascinating things about cruising are the wonderful people that you meet and whose experiences you can share.
In between rain showers I was able to get some photographs of the Roost
From our mooring looking south east with the entrance channel on the middle right
and we got out in the dinghy to survey the scene at low water and see what we had missed.
This is the rock that we missed on the way in; it was just submerged at high water.
and this is how close to the left hand side of the channel that we had to go on the way out to miss it; the rock being on our right hand side (as in yesterdays chart).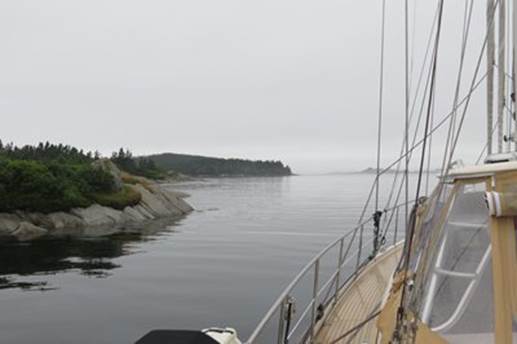 Coming out of Rogues Roost and directly ahead of us was the small and very attractive town of Prospect which started to disappear into the fog as we passed.
And that really was the last thing that we saw for the next 20 miles. One waypoint buoy came out of the fog no more than 150m away; I suppose that it says something for the navigational aids, the radar is certainly earning its keep; and also for keeping a sharp lookout.
Deep Cove is exactly what it says, but as in deep into the mountain rather than deep water
The entrance is beautiful as you find your way in from the sea. The fog had conveniently lifted.
Whilst there were other boats on moorings we had the anchorage to ourselves.
A walk ashore over the hillside, pursued by some local examples of a vicious biting fly, allowed us to view the bay up which we had sailed earlier in the day. It was definitely a night for mosquito screens on the hatches and a closed down cockpit.
---