More from Annapolis

Caduceus
Martin and Elizabeth Bevan
Mon 6 Jun 2011 21:10
Position 38:57.46N 076:31.70W
Date 1200 – Monday 6 June 2011 (UTC -4)
After the close of the OCC Rally we stayed a few days in Crab Creek, Annapolis.
Saturday morning early was completely windless and quiet. The early bird catches the photograph.
Saturday was spent visiting the local West Marine chandlery whilst the ladies hit Safeway all courtesy of Sid Shaw. The day somehow passed quickly and we finished with a BYO barbeque with Andrew and Celia of Alice; real American steak.
On Sunday Wolfgang Reuter, whose house is on Crab Creek and who hosted the end of Rally Party offered to take us on a tour of the Naval Academy in Annapolis. Wolfgang was formerly the Chief Naval Architect and responsible for a wide range of ship design and policy. He had also as a civilian worked in the research facilities at the Academy so an excellent guide.
The Academy has a great site on a peninsula facing the old part of Annapolis and dates back to the second half of the 19th century. Many of the principal buildings are from that time although of course there are modern additions. Currently they are training 1,000 midshipmen a year on a four year course, 4,000 resident at anyone time. As you would expect, everything is on a large scale.
Somewhere at the end of this hall is an excellent cafeteria.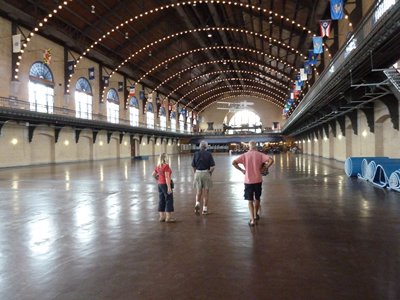 Despite the heightened security that has existed since 9/11 visitors who have to be ID'd on the way in are free to wander around the campus.
I found it strange how many similarities there were to our military academy at Sandhurst which I suppose is not surprising as the essential aims are the same. The Chapel evoked exactly such feelings.
In a pew towards the front was a candle that has been lit ceremonially at each service since the Vietnam War to commemorate those officers from the Academy who have yet to return from active service; and of course never will.
In the crypt is a mausoleum to a hero of the war of independence, John Paul Jones, whose remains were returned from France, where he died, and placed here as a focus for American patriotism. It has a surprising resemblance to the tomb of Napoleon in the Invalides in Paris which is not surprising as it was modelled on it.
We finished our tour with a visit to the excellent museum, a walk around the marine design faculty and a walk around the sea wall to view the Academy's fleet of offshore yachts.
On our return to the boats it was a quick turn around and we jointly hosted Wolfgang and Gemma for supper on board Alice. Celia produced an excellent Spaghetti Bolognaise and Elizabeth created a bannoffi pie.
The ladies present:
And the gentlemen
Oh horror, we both ended up wearing the same shirt. Honest! this was not deliberate.
A final photograph – Caduceus at rest:
---