Eastern Cove, Long Island - And all because the lady likes lobster

Caduceus
Martin and Elizabeth Bevan
Mon 11 Jul 2011 19:00
Date                2000 – Monday 11 July 2011 (UTC -4)
Apologies to Cadbury's and Milk Tray for the plagiarism – the reason for that comes later in the day.
A morning walk started off the day.  For those coming after us to Valley Cove the critical sign post to find in the woods, just behind the beach, is this one carved into the tree stump on the left: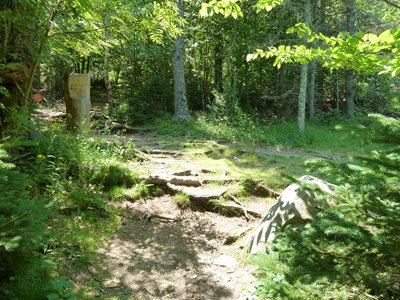 The choice is left 1 mile to Flying Mountain, straight ahead ½ mile to the road and car park and right that takes you on a ramble (scramble?) to the north along the base of the cliff and which gives a great view down onto Valley Cove.
Having got that out of our system we set off for Long Island, about 8 miles directly into 15 knots of south west wind, of course.  Passing Southwest Harbor we saw Vulcan Spirit moored, a Hallberg Rassy 53 from the ARC, and exchanged greetings.  They had just arrived from the west via Swans Island.
Long Island has a harbour on the North West at Frenchboro where there is lobster deli that sometimes does evening food.  Eastern Cove is on the south east with a "track" joining the two.  A phone call en-route provided the information that evening food was off but that they would cook us lobster for collection before 1800.  So it was a woodland yomp and "All because the lady likes" lobster.
The first challenge we have found on a number of such occasions in Maine is to actually find the track.  In this instance this rather 'Alice in Wonderland' blue rubber glove signed the way:
Following the track was a different matter for the first mile or so was a different matter as it would its way through the dense forest and the inevitable swampy bits; the Pilot does warn that whilst the walk is only 1½ miles it will take up to an hour due to the terrain. We were rewarded with sighting a deer, which did not stand still for long enough for a photo call, and this woodland character who was more amenable:
In Frenchboro we were met on the road by David Lunt, the owner of the eponymous Lunt's Deli, with our lobsters and he kindly gave us a lift in his pickup for the first half mile of the return journey.  Frenchboro is held out as an example of one of the last surviving remote fishing communities, existing entirely on lobster and shell fishing as a means of support.  It has managed to keep its school open, they currently have 12 children, and there is obviously a very strong community spirit.  On the basis that the harbour is called Lunt's Harbor David must belong to one of the original families.
This was definitely a 'take away' (or as they say in Scotland a 'carry in') with a difference, more akin to orienteering with food prizes: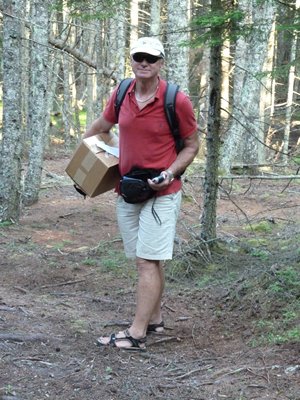 And the results of our labours, with enough for lunch tomorrow as well:
---