Oranjestadt, Sint Eustatius (Statia)

Caduceus
Martin and Elizabeth Bevan
Mon 4 Apr 2011 13:30
Date                1430 – 4 April 2011
With trepidation I fought my way through the disembarking cruise ship passengers to the terminal where the customs and immigration are housed.  Let it Be tell me that the following day they had a somewhat bruising experience clearing out.  I had no problem although it was queried why I had not fully cleared in.  Fortunately I was bale to play the local rivalry and blame it on Nevis being preoccupied with the International Triathlon.  This resulted in much "over there they do not do it properly", shrugs and two sets of stamps in the passports. Result!
Squeezing gently out between our posts we made a quick passage north again to Statia.  Statia is an outpost of the Netherlands and a major oil transhipment centre.  The only tenable anchorage is an Oranjestadt and on a windy and rather grey afternoon it looked uninviting.  The five mooring buoys referred to in Doyle's Pilot no longer exist but in the absence of any other yachts we were able to tuck ourselves well into the shelter of the breakwaters and out of most of the swell.
Customs had knocked off early, however the port security officer managed to persuade a charming young Dutch "gal" to come back and produce a form.  It was totally impossible to clear in and out at the same time.  Welcome to Dutch bureaucracy – a whole new experience.   Everything here is orientated around commercial shipping and huge oil tankers, yachties just get swept along with the rest and I suspect are both a source of interest and inconvenience.
The engine is still overheating and the generator has decided to join in so while Elizabeth and Kate went off to do the sights I stayed on the boat to "play" while John acted as a very excellent and appreciated "Number 2 on the Toolbox", passing and increasing number of spanners and the like into the bowels of the engine room.  More scraping of the inlet valve, from the underneath of the boat removed more gunge.  The generator impeller had been shredded, I suspect by very sharp small mussels that had grown in the pipes. I was able to fit a new impeller and remove the remains of the old one plus moules á la crême from the heat exchanger.  I tried the same trick on the main engine but could find little evidence of fouling in the main heat exchanger.  Result – the generator is happy again.
Elizabeth and Kate had a good walk around Oranjestadt, most of which is built on the top of the cliffs overlooking the harbour.  Statia has from early times been a major trading post and the route up to the town and the market square is known as the Slave Road, for good reason.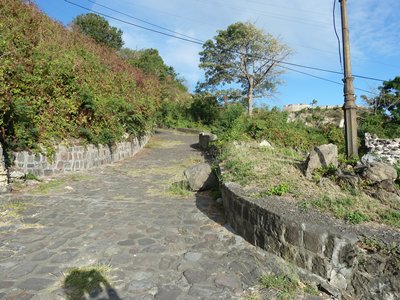 The town is totally different from anything that we have previously seen in the Caribbean, the Dutch influence being very marked.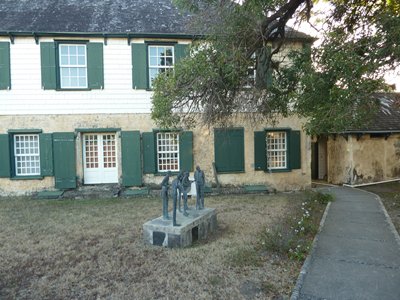 The fort forms the centre of the ancient defences
And provides good cover over the anchorage: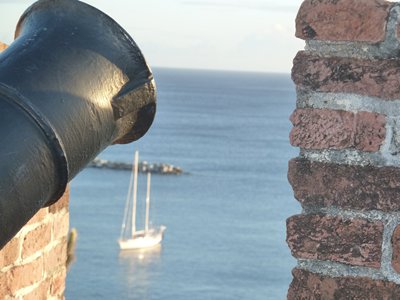 ---