Wet and windy to St Barts

Caduceus
Martin and Elizabeth Bevan
Tue 5 Apr 2011 17:00
Date 1430 – 5 April 2011
This morning the full customs team were in attendance to clear us out, and in fact in as well as yesterday's effort was only one of the forms that should have been completed. It was all very Dutch and genial and the head honcho, was most interested to ascertain the derivation of the boat name.
We slipped at 0940 and motored into the wind to clear round the south of Statia, that giving us the best up wind position to make St Barts. For reference, there is an acceleration zone around the south of Statia and the sea kicks up something to add to the fun. The view back over the volcano (dormant?) cone is well worth the effort.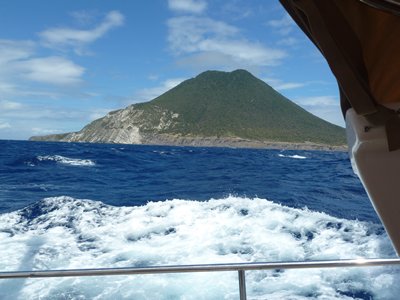 The engine is still overheating and it was with some relief that we were able to round Statia and make St Barts on a fine reach, well reefed down and making a good speed. There was quite a sea running on the beam and this resulted in some very wet crew as the occasional wave joined us in the cockpit! The skipper claimed privilege and sitting in the helmsman's seat did not get wet. With responsibility does come the odd advantage.
Gustavia, the capital of St Bart's, was decidedly busy with some very large yachts outside including Mirabella V, currently the largest sloop rigged yacht in the world:
We found a vacant buoy to hang off whilst we cleared customs and provided entertainment fro a continuous stream of well wishers telling us that we could not stay there. We did stay, I cleared customs, we had lunch and then left the circus to itself.
Gustavia waterfront
Anse Colombier looked good in the Pilot so we sailed around the coast to find a perfect bay. All the mooring buoys were taken so we anchored outside the conservation area but as the afternoon went on boats left and we were able to move further into the bay and onto a mooring.
---