Cape Cod Canal to Provincetown

Caduceus
Martin and Elizabeth Bevan
Sat 18 Jun 2011 19:00
Date                2000 – Saturday 18 June 2011 (UTC -4)
Friday was wet and a tad windy but after cowering inside for the morning courage was restored and we ventured ashore in a dinghy full of bicycles; "promenade á bicyclette" ?.  The effort was rewarded and we cycled up Wings Neck, a residential trust area, all around Pocasset Harbour to the boatyards where we found the oil that we required. 
Saturday dawned not much better than Friday but with the promise of better things to come and a favourable tide we set off to transit the Cape Cod Canal.  AT the entrance to the canal is the Massachusetts Nautical Academy and their training ship "Kennedy" which when alongside makes an impressive landmark.
We had yet another impressive railway bridge;
fortunately there was no train due as stopping could have been quite difficult.  With 4.7kts of current running we were making 12.1kts over the ground as the chart plotter shows.
Flushed out of the end of the canal we set sail fro Provincetown which lies at the end of the Cape Cod peninsula.  The harbour is taken up with moorings but we were able to find a spot to anchor in 12 metres.  A dinghy ride ashore took us into the centre of the very buzzy town
dominated by their Pilgrim Monument.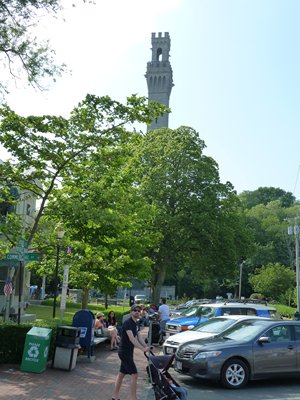 The Pilgrim Fathers landed here first but only spent 5 weeks before moving on to Plymouth, on the mainland side of Cape Cod Bay.  They certainly would not have approved of some of the current residents
But there again they did not approve of much.  This was male at some time and was advertising his/her drag show – playing to full houses apparently.
---