Thailand - Rai Lei, Krabi to Khlong Dao, Ko Lanta

Caduceus
Martin and Elizabeth Bevan
Wed 30 Dec 2015 15:00
Position 07:37.78 N 099:01.44 E
Date 1500 (UTC+7) Wednesday 30 December2015
and Thursday 31 December 2015
Distance run 25.8nm over the ground, 25.7nm though the water
Flomaida wanted to stay another day in Rai Lei and then go up to the marina in Krabi so at his stage we parted company agreeing to meet back in the Yacht Haven about 11 January. It was sad to part but a relief to break away from the non-stop cacophony of unsilenced longtail boats for a rapid reach in gusty conditions of 20-30 knots to the wide Khlong Dao Bay at the north end of Ko Lanta. We could see Ko Phi Phi Don over to the west, from where on 26 December 2004 we sailed 20 minutes before the tsunami hit with Khlong Dao as our destination. This time around there was the correct depth of water in the bay and ashore there had obviously been a large amount of development. With wind gusting through the bay we relaxed aboard for the rest of the afternoon whilst the wind gusted from nothing to 30 knots giving our anchor a good work out.
On Thursday morning after due research by Elizabeth we launched the dinghy and set off on a shopping mission ashore looking for fruit and vegetables and bread. The guides are rather vague and out of date so some more detailed information may be useful for those who follow.
Our anchor position is given above. The point at which we landed the dinghy is approximately at 07:37.766N 099:01.934E.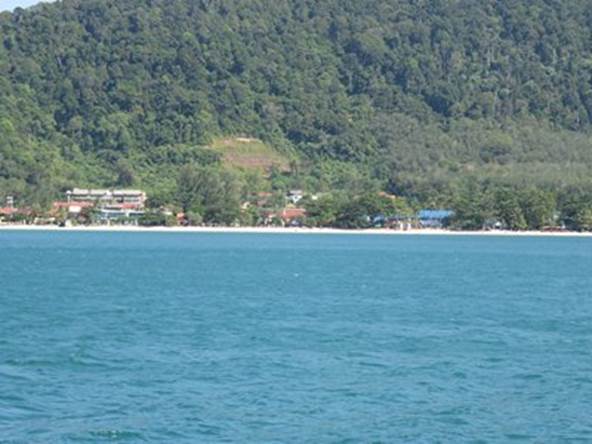 Land about 50 to100 metres to the left of the large blue roof
On landing make your way through one of the hotels to the road. The fruit vegetables and general provision shop is on the seaward, west, side of the main road opposite the grey block of flats in the left of the photograph at 07:37.821N 099:02.008E. The produce looked fresh and we think that they supply the local hotels and restaurants which ensures a good turnover.
The shop with an excellent selection of reasonable vegetables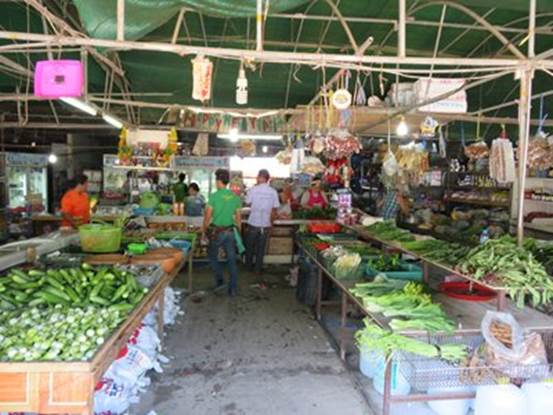 Something to keep the catering department happy
The next treat is a German Bakery which sells excellent bread and cakes and does light meals. This is about 1,000 metres to the north along the main road. The easiest way to get there is to use a tuk tuk and show the driver the picture. Our driver knew what we were after but the picture on the camera of the shop got us back to the correct starting place. A reasonable fare is 30 Baht
Well worth a visit and the German owners are charming
---