Time off the Aore Island Resort and then to Aeisi Island

Caduceus
Martin and Elizabeth Bevan
Fri 31 Oct 2014 22:56
Position           15:26.70S 167:15.06E
Date                1610 (UTC +11) Thursday 9 October 2014
Distance run – 13.1nm over the ground, 12.5nm through the water
Time from Aore Island Resort – 2hr 20mins
We are told that the Inter Tropical Convergence Zone (ITCZ), or more commonly the doldrums, has moved south.  Well whether it has or has not we have had days of very little wind and a great deal of rain with the forecast for the next week of the same.  The resort however in addition t providing moorings (£10 a night) gave access to all of the facilities which included WiFi and the use of their ferry.
Aore Island Resort
Luganville on a wet day.  OK for top up shopping and ducks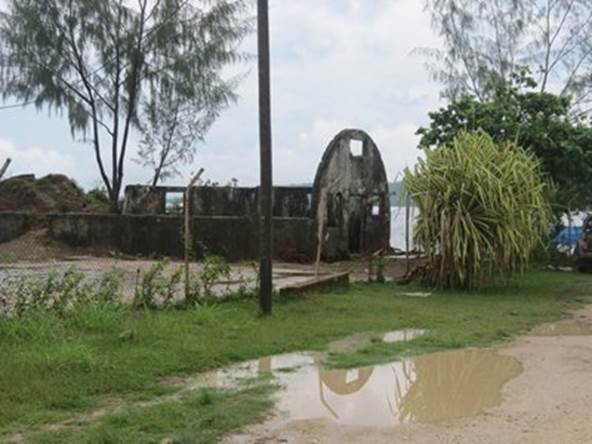 Remains of the US presence during WWII are everywhere
After a few days catching up using the Resort WiFi (including bringing this blog up to date from Fiji), which we could pick up from the boat we decided to break out and in the absence of wind we motored out and north to spend two nights off Aesi Island.
In between down pours we took a trip ashore.  There is the remains of the wreck of what appears to be a military barge and a concrete jetty all from WWII.
---