Discovering St Pierre

Caduceus
Martin and Elizabeth Bevan
Thu 10 Feb 2011 23:00
Date                2300 – 10 February 2011
A small move of position; keeping a good look out first thing in the morning meant that we saw a large catamaran with a prime position next to Sulana leave the anchorage.  We quickly moved to occupy the space which put us well out of the way of any ferry and safe to leave the boat to go ashore sight seeing.
With Alan and Sue and David and Ginny from Sulana we mounted a tourist attack on St Pierre.  St Pierre was a major city and trading port for Martinique up until 8th May 1902 when it was destroyed by the eruption of Mt Pelée which 4,800 ft dominates the town
Whilst the town has been rebuilt there remains a great deal of evidence of the destruction caused with shells of buildings a poignant reminder of the 29,933 people who died.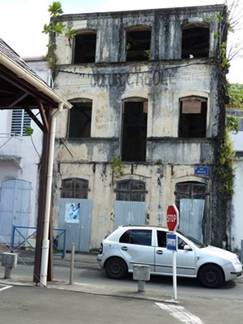 Whilst some people were able to escape before the eruption most stayed either because they did not believe that it could happen or they had nowhere to go and no resources.  Reputedly there was only one survivor and he was imprisoned in this cell which reputedly saved his life but left him with such severe burns that he became a circus attraction.
Sulana's  crew being of the walking inclination we set off to climb up to another of St Pierre's sights, the statue of the Madonna; it is in the upper right of this photograph.
To prove that we made it:
The inscription on the plinth is a reminder of the disaster:
The descent was a rough footpath which took us past the remains of an 18th century battery complete with cannon:
And finally into a beautiful tropical garden that has been especially planted to attract butterflies.
A bus ride back to St Pierre delivered us to a good small restaurant overlooking Mount Pelée. Following lunch we visited the excellent small museum and wandered along the town walls which gave an interesting view over the harbour; Caduceus is definitely in the sights:
The day was very pleasantly finished off with supper on board Sulana – Thank you!
---