Too good to leave - a calm day at Green Cay

Caduceus
Martin and Elizabeth Bevan
Sun 15 Apr 2012 20:14
I know that sunset photographs are considered old hat but I rather like this post sunset, pre barbeque one from Thursday.
The barbeque incidentally was fillet steak; another excellent bargain from Penn Dutch in Fort Lauderdale and a fresh salad with ingredients from Black Point kept expertly kept alive by the Mate
Friday dawned with not a breath of wind and every prospect of another very calm day. It seemed a shame to miss this and rather than motor off north we sat it out, not that that was much of a problem. The chart showed that somewhere behind the beach was a pond, or small lake and a sighting of a family of goats on the beach suggested that fresh (ish) water must be there somewhere. We therefore had a walk ashore with a purpose. The pond when found was quite an expanse of water; as for drinking or getting in it, we leave that for the goats.
Photographs do not lie - really; this pond even had its own version of the Loch Ness Monster.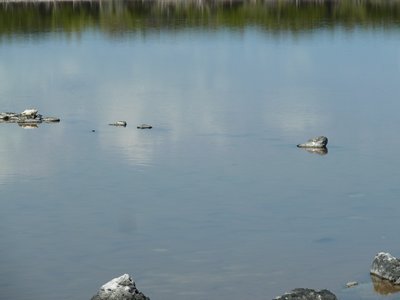 We did sight a herd of goats on the far side of the pond, a good mile away. The number of shot gun cartridges around probably explains why the goats keep their distance from intruders into their isolation. The only shot that we fired was a photograph. The goats are there if you look carefully, this was at 15x zoom.
The evening saw the start of a weather change. The Explorer Chart describes Green Cay as a pleasant fair weather anchorage and fair appears to be coming to an end and therefore pleasant with it.
To finish a very pleasant day in wonderful surroundings the Mate produced a pork fillet in mushroom and white wine sauce. Roughing it in paradise?
---