Kulhudhuffushi - an anchorage in the commercial harbour

Caduceus
Martin and Elizabeth Bevan
Tue 8 Mar 2016 13:00
Position           06:36.953 N 073:03.954 E
Date                 1300 (UTC+5) Tuesday 8 March 2016
Distance run    10.6nm over the ground
The next stop was the island town of Kulhudhuffushi where we were able to anchor in the fine new commercial harbour.  There seemed to be a lot of officials and when we were there not much commercial activity.  They were however charming and seemed mainly concerned that they should be doing something about us but were not sure what it was.  The fee for mooring was US$12.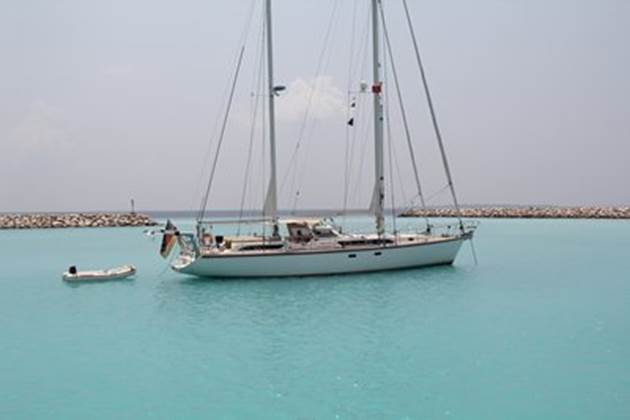 Looking across Flomaida at the harbour entrance.  We saw a minimum of 6 metres
The commercial wharf, harbour office and customs shed
The town is of a fair size and has a new looking hospital and schools.  We were able to get money from an ATM, fruit and vegetables from a number of shops and a simple meal in the café / restaurant close to the harbour.  Walking ashore we felt that we were somewhat of a curiosity but everyone was charming and it was smiles and greeting s all round.  We also found a shop selling Italian ice cream, bread and cakes.
The harbour water looked clean, we hope so as lots of the locals came down to swim and have water aerobics classes from the beach that forms one side.
The beach end of the harbour complete with barge
---