Noumea to Kupang Day 13 - Bread and Dolphins

Caduceus
Martin and Elizabeth Bevan
Wed 14 Oct 2015 09:09
Position 09 56.81 S 134:28.24 E
Date 1200 (UTC+9) Wednesday 14 October 2015
Distance run in 25hrs 160nm over the ground, 150nm through the water
Trip total 2127nm over the ground, 2057nm through the water
To go to Kupang Indonesia 680nm
Yesterday evening we altered the clock by another hour so we are now 9 hours ahead of UTC and 8 hours ahead of British Summer Time. This makes evening calls to the UK very difficult as they reuire to be made in the early hours of the morning, OK for the duty watch but not good for audience participation.
The wind is lightening and more variable but still very much on the stern, changing side periodically. We continue to make reasonable progress under poled out main and when the wind allows winged main.
Solar powered, gimballed bread making machine
So far we have been using bake in the oven baguettes purchased in Noumea but today I made the first loaf of the voyage. We sussed some time ago how to keep the machine secure at sea. Secured by the pot holders on the stove, the gimbal is enough to stop the bread getting accidentally knocked down at inappropriate moments. The machine takes 2 hours on the fastest setting which appears to work perfectly well. Only the last hour bakes and as the contraption is thermostatically controlled the power used is small so by choosing a sunny morning, easy at the moment as every morning is sunny, runs happily on the inverter without caning the batteries.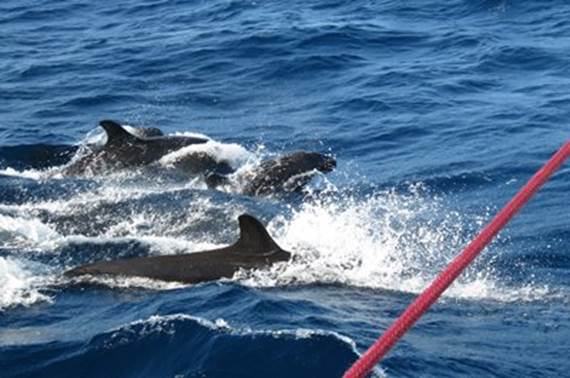 A joy and delight to behold. Youngsters at play
We had our first visit of the passage from dolphins this morning and a pod of about 20 spent 20 minutes playing around the boat. The young ones were showing the exuberance of children jumping out of waves in groups whilst the older large ones raced along the hull, twisting and turning in the bow wave.
---