Devils Point lives up to its name - return to Port Vila and shelter

Caduceus
Martin and Elizabeth Bevan
Sun 5 Jul 2015 16:50
Position 17:44.30 S 168:18.65 E
Date 1745 Sunday 5 July 2015
Distance run From Havannah Harbour 30.9nm over the ground, 30.6nm through the water
In case you missed the exciting anniversary yesterday, 4 July, it was not only the anniversary of the independence of the United States of America but also the fifth anniversary of our departure from the United Kingdom.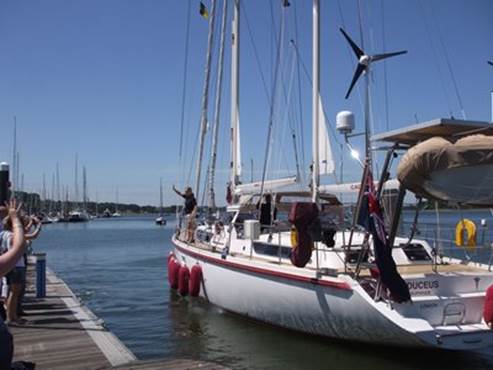 Royal Harwich Yacht Club – 1400 Sunday 4 July 2010
Independence Day?
Back to Sunday 5 July 2015 and no rain but for once no wind so late in the morning we decided to drift down Havannah Harbour and anchor in Survivor Bay, about 10nm and a good stopping off place ready for an early morning dash around Devil's Point to Port Vila on Monday. Well the devil in this one was in the detail of the weather. We had sailed no more than 3 miles when the wind returned with a vengeance and soon was hitting 25 knots plus. Whilst Survivor Bay had been a pleasant and tranquil spot when we anchored there four weeks ago today it was anything but. We just had enough time to press on to Port Vila. This involved a very wet and deeply uncomfortable few hours as we pushed our way around Devil's Point which even at 3 miles out was putting up great overfalls.
Our first destination was off the island off Mele. This was very swelly and the bar ashore was just warming up its loud speakers for an evening of music. With just enough daylight we altered plans yet again and anchored with the last of the daylight off the main town of Port Vila. This put us in a good position to get onto the diesel dock first thing in the morning before going into a berth on the marina dock.
After nearly five weeks away "up islands" it was good to be able to take a break back in Port Vila with shore power and the ability to get off the boat without assault beach landings. The next 10 days or so will see us shopping for our next trip around the islands, both for ourselves and for aid items and liaising with the local medical services. An added treat will be the arrival of the World ARC 2015 fleet. As paid up but currently non-participating members we will be able to meet the current crews and catch up with old friends who have re-joined the Rally in Tonga and Fiji having dropped out last year.
---