Port Vila to Noumea Day 3 and a bit - Fridge II and arrival

Caduceus
Martin and Elizabeth Bevan
Mon 7 Sep 2015 13:40
Position 22:17.23 S 166:26.02 E
Date 1440 (UTC+11) Monday 07 September 2015
Distance run in 26hrs 40mins 156nm over the ground, 144nm through the water
Trip total 334nm over the ground, 328nm through the water
To destination Noumea, Port Moselle Marina 1 nm round the corner
Another 27 hours motor sailing into increasing head winds, but we have actually got to get there. We passed our waypoint off the eastern tip of Lifou at 1800 on Sunday and with a small alteration of course headed for the Passe Goro, the main eastern entrance through the reef leading to the 40nm passage to Noumea. Some chart prints may help orientation.
Overview of area, Eastern Australia to the west, Fiji to the west, New Zealand off to the south
Port Vila to Noumea leaving Lifou to starboard
Spot the deliberate mistake – waypoint Lifou West should be called Lifou East- no letters to the editor, please
We had larger seas which slowed us a little and then of course we had son of Fridge hissy fit or Fridge II, the sequel, depending on your point of view. This time it was 0200 in the morning so the chief fridge mechanic was just coming on watch. The pump was still ticking away happily but the freezer temperature was again rising and on investigation no water was being circulated. So it was heave to cutting down the motion, swap the pumps over and circulate a Barnacle Buster solution through the pipework for an hour. Happy days, and nights! This did the trick. Afternote – stripping the non-functioning pump down later revealed some small shell fish shards that could have stopping the valves closing. After cleaning up the valves the pump appears to be working again, so a good spare.
Fortune this time shone upon the righteous (or self-righteous?) and we arrived at Passe Goro 30 mins after slack water and carried a favourable tide right the way up to Noumea where we anchored in Baie de l'Orphelinat, suitably awkward to persuade the various Customs and Bio-security official not to want to visit, at 1440 in time for a late lunch. As immigration shuts at 1100 for the day, clearing would have to wait for tomorrow.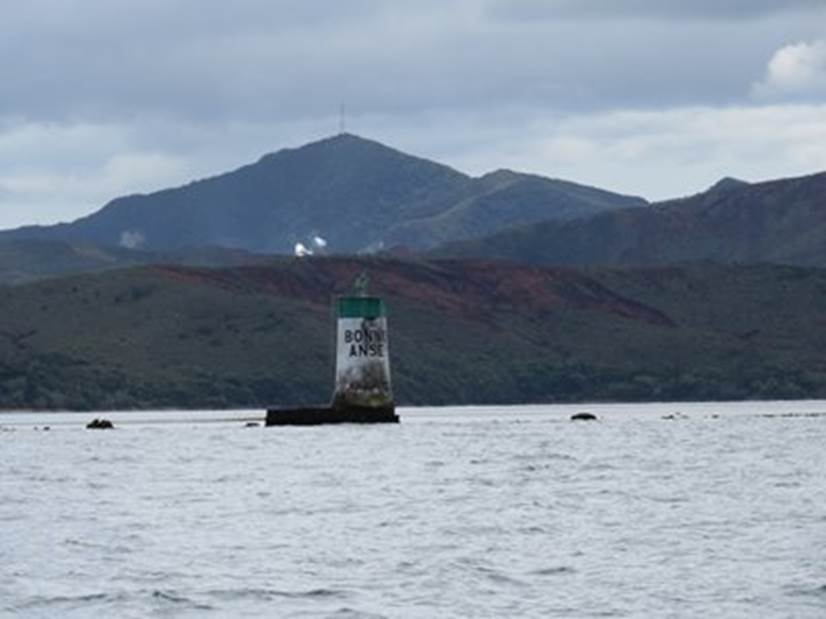 Bonne Anse Reef and light at the entrance to Baie Prony, a favourite from last year and on the way to Noumea. The smoke rising comes from the nickel smelting plant hidden behind the ridge
Despite 15 knots of wind we managed to barbeque some great Vanuatu beef; a real treat for a tired skipper and crew.
---