Back to Somes Sound - Buoy Watch

Caduceus
Martin and Elizabeth Bevan
Sun 10 Jul 2011 19:00
Date 2000 – Sunday 10 July 2011 (UTC -4)
An additional note on The Cows Yard – the depth on the chart is overstated and silting has taken place. We found a spot with about 2 - .5 metres at chart datum and if we took the mud we sank into it. The Pilot says do not go beyond the second island on the west side of the anchorage; we would say that you require to be abeam of that island for the depth. Nevertheless the best anchorage yet for scenery and solitude.
Sorry for the play on words in the title, no hassel(hof) but this is becoming an obsession.
At best they appear every 200-300 metres but anywhere where the water is less than 20 metres deep they can be 50 metres or less apart. For the uninitiated they are buoys (pronounced – 'booeys' for those anglicised readers) marking lobster traps and they number in the millions. For anyone who has sailed in these they are old hat and a hazard of the course, to the uninitiated they dominate every moment of a passage. In deeper water there is an even sneakier trick in that each buoy has a marker attached to it and floating innocently up to 10 metres from it and joined often by a semi floating line waiting to snag a keel or prop.
The best protection is to go around them but if that fails we have a keel that is well shaped to throw them off, the prop is mounted on the back face of the keel so no "P" bracket to snag the line, we have a 'Spurs' rope cutter fitted in front of the prop to cut any line that gets into the prop and the rudder is fully skegged which again should throw off a line. Still as Thomas Jefferson said, appropriately for the location I suppose, "The price of freedom is eternal vigilance". It certainly keeps you on your toes and limits boredom.
The trip back east to Mount Desert Island was timed to leave at high water, carry 6 hours of ebb tide and take advantage of a brief spell of north west wind. All of these things were achieved and although the wind was light and became variable we were able to motor sail to advantage hard on the wind which gave us the speed required to carry the tide.
Schoodic Point was again looking benign; a photograph could not be taken from this position if it as not.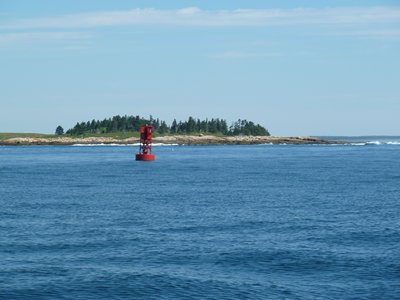 For English Channel sailors, this point has a similar reputation to Portland Bill and in even moderate conditions is to be given a very wide berth – not today however.
We made our way back to Somes Sound as there are two walks that we wished to do and did not fit in on our first visit. For a lunch stop we went to the head of the Sound, Somesville, pretty but with the only place to anchor amongst the moorings taken by a 45ft sloop anchored on rope it was a definitely not an overnight location this time.
Retuning back down the Sound we again anchored at Valley Cove and took a walk up Flying Mountain which gave us wonderful views over Northeast Harbor and Sutton Island towards the Cranberry Islands.
Round three of the chicken was mixed with prawns to make paella – it is tough at the front, the situation that is, not the chicken, which has also produced two coronation chicken lunches.
The chick is now definitely "finis".
---