Where did four weeks go?

Caduceus
Martin and Elizabeth Bevan
Mon 6 Oct 2014 06:44
Date 10 August to 6 September 2014
Well the bank account shows that quite a bit of work was done on the boat.
The Radar head brought by Andrew was installed by Johan from Baobab Marine.
We had an additional chart plotter, an updated system GPS and various other connection parts shipped from the USA and I carried out the rewiring and installation which took days during which time we sensibly ate ashore.
It is in there somewhere? 6 foot long arms would have been useful. Galley definitely not in working order
A bus trip into Lautoka broke up the monotony for the Mate who was able to spend a great deal of time planning and arranging our stay and travels in New Zealand, taking advantage of generally good internet connections courtesy of Vodafone Fiji.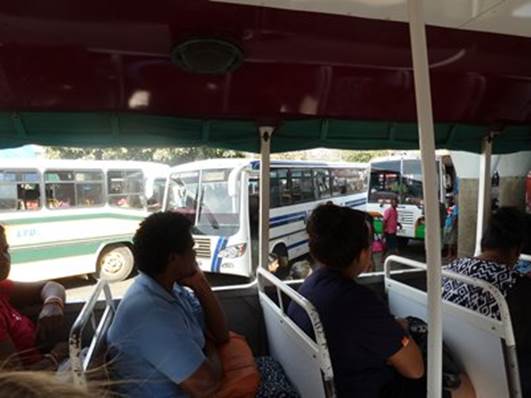 The market in Lautoka on a Saturday was well worth the outing and we returned laden with fresh produce – and two door mats
Having completed the work on the boat we decided to have our sun awning, WIP since the USA, completed and as that was going to take some time we moved over to Musket Cove for 10 days to sit out the time and enjoy a proper holiday. It was great and we got into the habit of an early morning 4 mile walk around the perimeter of the island. We also managed a quick trip to Vuda and back to have a re-measure for the awning, with Jonathon and Donna for company – back in time for happy hour!
The view from Malolo Lailai (Musket Cove) towards Viti Levu and Lautoka
Looking down towards the resort and anchorage at Musket Cove
---